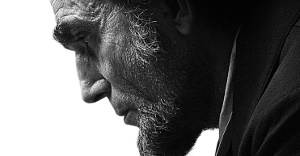 Steven Spielberg's "Lincoln" has been nominated for 12 Academy Awards this year, which is quite and impressive feat. Spielberg, as well as Kathleen Kennedy, Tony Kushner and Joanna Johnson all commented about the achievement:

Steven Spielberg and Kathleen Kennedy -
"We are absolutely thrilled and astonished with the 12 nominations. It is
such a tribute to the work of those who joined us in this 12-year journey
to bring LINCOLN to the screen. We humbly thank the Academy members who
honored so many of us."

Tony Kushner -
"I'm tremendously honored to be a nominee in the company of so many writers and filmmakers whose work I admire. I'm very grateful to Steven and Kathy, to Daniel, Sally, Tommy Lee and the whole cast, to Rick, Joanna, Janusz, Mike and John and everyone who made Lincoln happen. I'm overwhelmed by the Academy's response to the film. I heard that I'd been nominated while waiting to take off on a plane from JFK to LAX. James Gandolfini, who's sitting in front of me, gave me a hug and a kiss, so I'm about as happy as can be. "

Joanna Johnston -
"I'm thrilled and honored to be nominated, it was an extraordinary experience with a remarkable team who are all part of this recognition. It is my first nomination and I'm so happy to be part of this unique body of talent."

Sally Field -
"I'm spinning and beyond thrilled on so many levels. To be included in this amazing group of extraordinary craftsman and exquisite talents has been an honor in itself. But now for us all to receive so much recognition from the Academy I'm deeply appreciative and overwhelmed, and basically, I still can't believe I got the role."