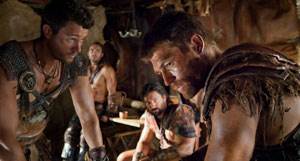 When last we left Spartacus and his merry horde, they had seized a Roman city, taken hostages and taken in more wayward refugees. Those were the good things that happened, the bad pretty much falls into those three points. Staying in the city has allowed the soldiers to become restless and impudent. The hostages they have taken have become a source of contention between Spartacus and his lieutenants and lastly with all the extra refugees, the problem of keeping everyone fed and protected has escalated.

In "Blood Brothers" Spartacus moves forward with his secret plan, while being aided by the pirates whom his compatriots still have a hard time trusting and dislike Spartacus' increasing trust in them over his own people. Meanwhile, Caesar, still pretending to be one of the many refugee's taking refuge within the city walls, continues to sow dissent amongst those who would follow Spartacus. Over in Marcus's camp, his son is still reeling from his friends death at his own hand, while Marcus himself continues to plot out a way to invade the city while dealing with a Roman politician who has seen fit grace the camp with his presence. Things come to a head when Caesar reveals his true identity and executes the plan set in motion by Marcus himself.

In the following episode, "Spoils of War," no time is wasted as the first ten minutes are spent in endless bloodshed while Caesar, Marcus and the soldiers they lead invade the city and Spartacus is forced to retreat to the northern ridge where the terrain is not the least bit hospitable. Meanwhile one of his lieutenants stays behind to hold off the Roman soldiers so the others can escape. He himself becomes trapped and within the city, forced to hide in a secret cellar while the Romans search for any stragglers whom they can use for entertainment during their victory celebration that night. Following the battle, Marcus's son is still forced to endure mistreatment from his father as well as Caesar; his disdain for both men increases every passing moment. At the same time, the hostages that Spartacus released seem to have found their way to safety, though for some things aren't what they seem.

These newest episodes only confirm what many people already know, Spartacus is an excellent show with a sharp, committed cast playing out compelling stories. For those who have yet to give this show a chance, you owe it to yourself to add this series to your watch list.