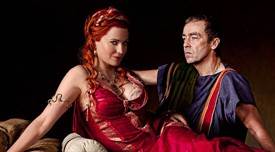 The end is nigh!! Spartacus fans take heade, only 4 episodes to go before the finale of the Starz series. If you've been enjoying the final season so far, then you're going to really these next two stories.
Previously, we watched as Spartacus (Liam McIntyre) and his army was driven out of the city they had taken hold of by the Roman legions led by Marcus Crassus (Simon Merrells). In "Mors Indecepta" the freedom fighters head north into the mountains, the rebels find themselves pinned between the forces at the city and a garrison protecting a wall which blocks the snow covered valley. With little provisions and no real winter clothing or shelter, Spartacus's forces face an uncertain future. Crixus (Manu Bennett), one of the several "lieutenants" under Spartacus longs for bloodshed and would gladly turn back to the approaching armies and see them dead. This diversion in goals finds the two friends coming into conflict, equally back in Marcus's camp, his own soldiers and that of his own son Tiberius are just as difficult to control.
In episode 308, "Separate Paths", Spartacus and the rebels arrive at a crossroads both in intentions and in convictions. Spartacus wishes to see all those who stand with him go free and never return to a life of servitude or bloodshed. Crixus, on the other hand, would see the forces head straight to Rome and bring down the walled city. With Crassus driving the rebels from behind, decisions must be made quickly or none of them may ever taste true freedom. Meanwhile, Crassus's son Tiberius continues to contend with Julius Caesar, portrayed beautifully by Todd Lascance.
As we, the audience, march along with Spartacus and his people, we wonder, just as they do, how will this all come to an end?