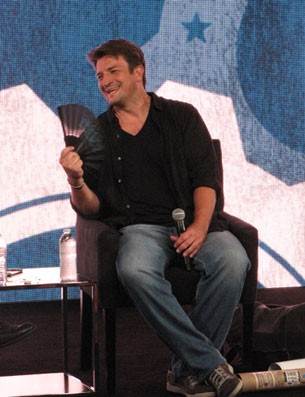 On Sunday, July 27, Nerd HQ 2014 came to a close with a rapid fire series of amazing panels that helped the four-day event raise a grand total of $256,000. Starting off with Arrow's Stephen Amell and continuing all the way through to the men of Supernatural, Nerd HQ brought the goods for all those lucky enough to be in attendance.

The final day of Conservations for a Cause, the proceeds of which go entirely toward the non-profit Operation Smile, began with the always charming and gracious Amell before smoothly transitioning to online video masters, Wil Wheaton and Felicia Day. The hilarious cast and guest stars of Thrilling Adventure Hour followed straight after, with Marc Evan Jackson routinely stealing the spotlight thanks to his deadpan delivery of witty quips. He even stuck around afterward to take a picture with an adorable young fan though nothing was cuter than Molly Quinn (Castle) cuddling on stage with her tiny dog.

Audience favorite and Nerd HQ vet Nathan Fillion brought along Alan Tudyk and a bag of "crap" to spice up his session. Throughout the next hour, the two Firefly stars auctioned off signed posters, engraved smart watches, and more all to raise additional funds for Operation Smile. In between they answered fan questions with their typical self-deprecating humor.

The big mystery of the day was who would fill in for the grounded Joss Whedon, whose recent knee surgery prevented him from flying in to San Diego. To everyone's delight, Fillion returned, this time with not only Tudyk in tow but also Liam McIntyre (Spartacus), Chloe Bennet (Marvel's Agents of S.H.I.E.L.D.), and Seth Green (Robot Chicken). As the five stars joked about their connections to Whedon and times when they were intimidated by his genius, the man himself appeared on screen behind via web cam. All the way from London, Whedon chimed in on answers and teased his stand-ins, and it was marvelous.

The only way to top the Joss Whedon Mystery Panel is filling that same space with rabid Supernatural fans. Series stars Jensen Ackles, Jared Padalecki, Misha Collins, and Mark Sheppard went all out during what was the last Conversation for this year's Nerd HQ. Moderated by Aisha Tyler, the Q&A session transformed into story time thanks to Ackles and long bits hysterical laughing thanks to all four men. Things even got a bit poignant when Padalecki admitted he wasn't sure if he'd do the show for another nine seasons (it's currently entering its tenth) but consented to at least a few more.

The Nerd Machine's own Zachary Levi concluded the day by taking the final 30 minutes to answer audience questions and deliver a heartfelt thanks to everyone who supports The Nerd Machine and Operation Smile.

Check out all of the Conversations for a Cause on The Nerd Machine's YouTube channel.