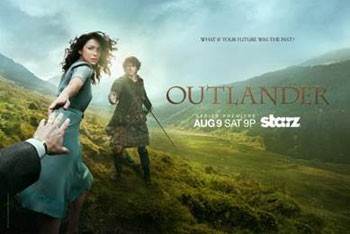 "Outlander", The highly anticipated TV show based on the best selling book series by author Diana Gabaldon, debuts Sunday, August 9, 2014 on STARZ. Many of the cast, The Executive Producer, Ron Moore (Battlestar Galactica), and the author all made their Comic Con Debut this year as well, to an outpouring of affection from fans who are eagerly awaiting the premiere. Several lucky fans and the press were treated to an advanced Screening of the first episode which left everyone even more excited than before. Even cast member Lotte Verbeek (The Fault in our stars) gushed, "It was my first time seeing it on the big screen. It was so impressive".

Outlander tells the story of Claire, played by Caitriona Balfe (Now You See Me), a woman who mysteriously falls through time from 1945 to 1745 and has to find a way to survive in her new and foreign surroundings. She leaves behind a bewildered husband, Frank, played by Tobias Menzies (Casino Royale) only to find a lover, Jaime, in 18th century Scotland played by Sam Heughan (Heart of Lightness).

Heughan, new to Comic Con, stated the experience was "so exciting" and related a story of seeing people in the street dressed in costume. "I rolled down my (car) window and yelled to them which started chants of 'Outlander, Outlander'". When asked if he had read the books he said he had only read the first two books and stopped because he didn't want to know too far ahead what was going to happen in order to stay true to his character at the point they were at in filming.


Balfe agreed while revealing that they were staying true to the books but "some things have been moved around to fit into a one hour arc" each week. A statement reiterated by Moore who also said, They had to "be true to the books, faithful, but at the same time can't give over to the fans. Television is not a democracy".


Verbeek teased how impressed she was with the sets and "on location, Scotland is extraordinary". She also revealed that the costumes are "pieces of art" and to keep an eye out for the "monkey Jacket" as she liked to call it. Graham McTavish (The Hobbit: An Unexpected Journey), who plays Douglas Mackenzie, told us He has "watched 6 episodes back to back and is becoming a fan" too.

The fans were much of the discussion and focus at Comic Con and all involved know they need to be careful not to alienate those fans while creating the series and making it fit for television. While I expect most fans to be overjoyed for these beloved characters to come to life, we will have to eagerly wait until Sunday night to see if the sseeries lives up to the hype. From the reaction so far, I expect "Outlander " to be renewed for season two long before the first 8 episodes are aired.