Sep 26, 2014 02:12 PM EST
Fear Lives On at Universal Studios Orlando Halloween Horror Nights 24
It is probably to no one's surprise that Universal Studios theme parks have done it again this year introducing the world to Halloween Horror Nights 24. And, as with most years, they keep upping the ante on their "scare-inducing hijinks". Included this year in the Mazes and scare zones are some very popular and recognizable films, including a preview of Universal's Dracula Untold, that doesn't even come out into theatres until October 10th, 2014.

Some of the main highlights this year included the always funny "Bill and Ted's Excellent Halloween Adventure", a maze inspired by the father of slasher films, John Carpenter's Halloween, an AVP: Alien vs Predator maze produced in conjunction with 20th century fox, a From Dusk till Dawn maze that allows you to experience the fear the Gecko brothers did in the 1996 film (and now a television series), and a Purge: Anarchy scare-zone based on the film of the same name. There are also the largest and "scariest" mazes ever to be in the park, such as the Dollhouse of the Damned, and The AMC hit series, The Walking Dead, which has over 50 "scare actors" in the maze at all times compared to the normal 20 or so found in the others.

While all the mazes have the same underlying theme of giving you a good fright while being immersed in another-worldly setting, not all mazes are like each other (or have your adrenaline pumping like crazy). Without a doubt, the "Halloween" and "AVP" mazes stood out as being the most faithful to the works they were based on. You truly felt like you were part of the films, aside from getting a good scare here and there. The same could be said of The Walking Dead maze; as you take a bone-chilling journey to seek sanctuary at Terminus, you feel the terror that befell the residents of the West Georgia Correctional Facility, now overrun by savage walkers (aka zombies). On the other hand, the "preview maze" Dracula Untold, did nothing to tease the film to movie-going guests. It was a great marketing idea, but just didn't stand out with a very good story (but has some great screams!)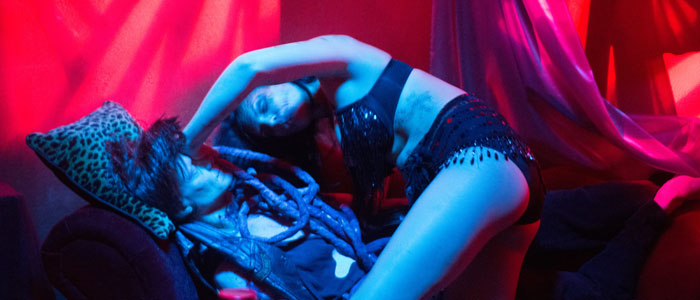 Aside from the film and television show tie-in mazes, Universal Studios theme parks have also created some amazing stories of their own including Dollhouse of the Damned and Giggles & Gore Inc. While the Dollhouse of the Damned has some pretty good thrills and make-up effects, nothing could compare the insane clowns of Giggles & Gore Inc. who has only one agenda on their mind, to make more clowns.

One key aspect of Universal's Halloween Horror Nights is to take guests out of their comfort zone and immerse them in a world of terror. To bridge the gap between mazes, Halloween Horror Nights has created scare zones and, not surprisingly, The Purge: Anarchy was the big one for the year. Just like the surprise hit sequel to The Purge, all crime is made legal in the scare zone, which has turned ordinary citizens into crazy felons, chasing surprised guests around in a very small space. Be sure to watch your back, front AND side while walking through this zone, as they come at you from all angles.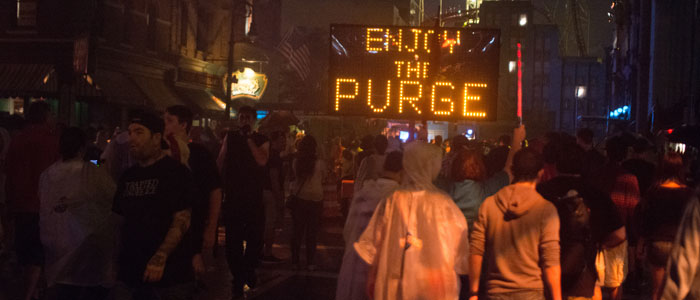 During its twenty-four year history, Halloween Horror Nights has become an iconic event for horror fans from around the world. Each maze can take guests anywhere from 60-90 minutes to get through including wait times. If you would like to see it all then it would be a wise idea to get the Express Pass so you can have shorter wait times, and if you are a Florida Resident, you can purchase a Frequent Fear Pass that allows guests to experience 16 nights of pure terror for less than the price of one. Having survived many Halloween Horror Nights in the past, I would have to say, this year, Universal has outdone themselves and I can't wait to see what is in store for number 25.

All tickets can be purchased at the official Halloween Horror Nights website.

For more photos from this years, Halloween Horror Nights 24 Media Event visit FlickDirect's Facebook page.
comments powered by

Disqus