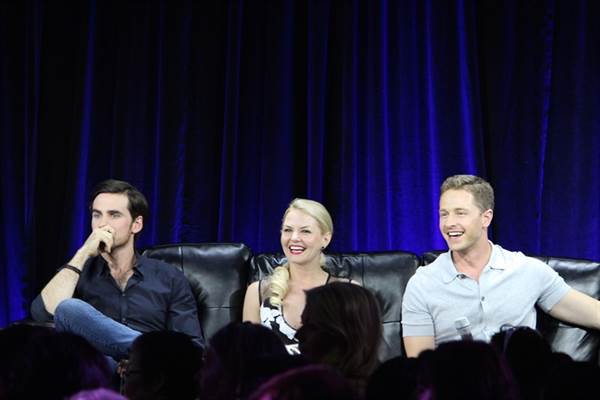 Anywhere else a panel of undisclosed celebrity guests might draw intrigue but it would hardly warrant a sold out crowd. At Nerd HQ, fans know better. It was no surprise then to find the Conversations for a Cause venue at capacity Saturday evening for the Mystery Panel. As usual too, the fans were right. Joining host Zachary Levi on stage were Yvette Nicole Brown, Scott Porter, Retta, Colin O'Donoghue, and Josh Dallas.

Things quickly got off to a funny start when one audience member asked how each panelists "treats themselves," referring to the Treat Yo Self day from Parks and Recreation. Though she wasn't the only one confused, Morrison was the first to admit she didn't know what that was. Retta, who played Donna on the show, rushed to hilariously fill her in, recalling how she and Brown treated themselves with purses and make up. Morrison's eventual answer was by flying home first class while other answers included guitars (O'Donoghue) and X-Box while his wife and seven-week-old are at mommy and me class (Porter).

The laughs continued when Porter revealed he was part of an acapella group that won Star Search, an early version of American Idol. Everyone then watched in amazement as he beatboxed and imitated an electric guitar perfectly. After this and several well-crafted answers to questions, each of the panelists jokingly said they shouldn't have even bothered showing up the panel with Porter stealing all the thunder. Dallas teased that all he needed was some applause to make him happy and the audience happily obliged.

For those not in attendance at the panel, you might try checking out Yvette Nicole Brown on Periscope. She was streaming throughout the conversation.

Nerd HQ returns for their final day of 2015 today Sunday, July 12.