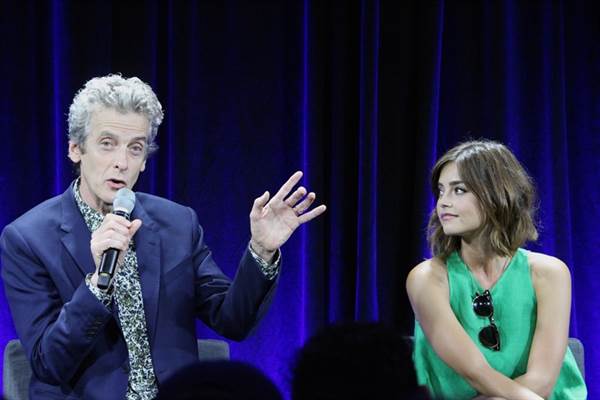 In keeping with a tradition that makes Whovians everywhere very happy, Doctor Who once again participated in Nerd HQ's Conversations for a Cause. Jenna Coleman, Michelle Gomez and executive producer Steven Moffat were on hand to discuss all this Whovian and beyond. But first they were joined by The Doctor, Peter Capaldi, who made a surprise appearance on stage to the complete delight of everyone in attendance.

For anyone who was lucky enough to be in Hall H the day before for the Doctor Who presentation much of the information on season 9 was repeated at Nerd HQ. However, the intimate yet relaxed atmosphere allowed the actors to go off script with some of their answers with excellent results. When answering which fairy tale is her favorite, Gomez actually cited the story of "The Scorpion and the Frog," comparing the scorpion's inability to change it's base nature to the way The Master/Missy cannot be like The Doctor.

One fan asked if Capaldi if he would ever direct an episode seeing as he has some pretty good credentials (like a 1994 Academy Award for Live Action Short Film). While Capaldi agreed he would be up for it, he also agreed with Moffat that it would be extremely difficult to do while playing The Doctor. The role is very demanding and it would be nearly impossible to direct and act in an episode.

Just as you'd expect Capaldi lit up when talking about the show and how much fun he has every single day getting to be The Doctor. "I still look around and I'm amazing that I'm Doctor Who, that I'm on the TARDIS, that there are Daleks and Zygons and all these creatures around."