Jul 20, 2015 02:57 PM EST
Petco Debuts New Star Wars Pet Accessories at Comic Con 2015
If you are a fanatic for anything Star Wars and you are a pet owner, Petco will now make it possible for you to fuel your obsession and pamper your pet at the same time. The retail chain has a line of Star Wars themed pet toys and accessories for your four legged friends to enjoy. Everything from costumes to food bowls and beds can be found in Petco stores nationwide. While some items are currently available, other items will be launched for the Movie's December release, which is the perfect time for your holiday pet shopping needs.

These new items debuted at San Diego's Comic Con to overwhelmingly positive feedback and some lucky attendees were even treated to a free Chewbacca Chew toy or Yoda ears. Our personal favorites included the Chewbacca Chew toys and the Darth Vader food bowls. We predict another successful product line from Petco and can't wait until December!
The complete line of products include:
Dog hoodies: Everything from Chewbacca and Darth Vader to Boba Fett. They promise to keep your pet warm on those cold winter nights.
Dog and cat neckwear: Dress up your pet for a holiday party with neckties and bow ties in a variety of styles or for a more casual look, Petco is offering Star Wars print dog bandanas. Also a classic look in any situation.
Pet beds: Your pets can cuddle up in a comfy Star Wars bed in either a Yoda or Darth Vader theme.
Cat toys: Petco hasn't forgotten about our feline friends with Catnip mouse toys dressed as Chewbacca, Yoda, Darth Vader or Stormtroopers, as well as themed ball and teaser toys. These great gift ideas promise to keep cats mentally alert for hours.
Graphic tees: Bringing classic Star Wars characters to life in these comfy, cotton graphic t-shirts. Choose from Star Wars print, Darth Vader, Yoda or Princess Leia. As an added bonus, each T-shirt comes printed with a timeless Star Wars quote.
Headpieces: A dream come true as your pet dons these adorable headpieces for dogs and cats that will turn heads everywhere you go. Yoda ears and Princess Leia buns for pets…What could be better?
Dog toys: Keep dogs entertained for hours with various dog toys that are themed both good and evil. Let them have fun battling the Dark side and defeating the imperial forces. Choose from Stormtroopers, Darth Vader, Jabba the Hutt, Chewbacca, Yoda, Boba Fett, C-3P0, or R2-D2.
Collars and leads: Dogs will love the matching collars and leads in Princess Leia pink, Death Star print, Yoda green and Star Wars hero blue. All four prints come in cat collars too!
Darth Vader Fair Isle sweater: Fans with a flair for a classic look will love this this vintage-esque Darth Vader sweater.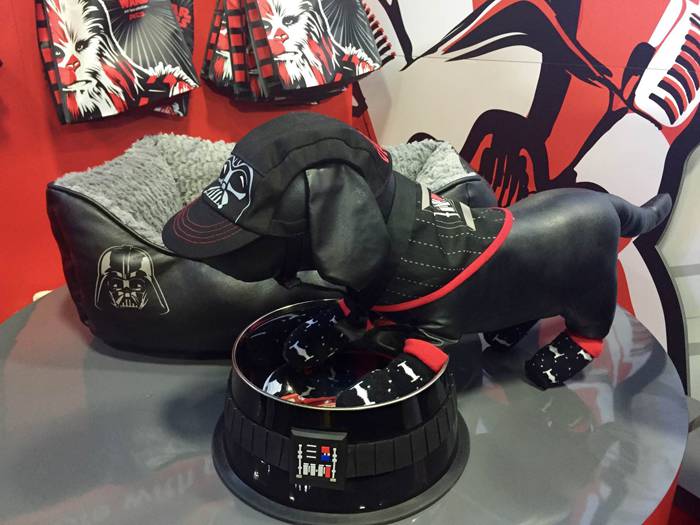 comments powered by

Disqus