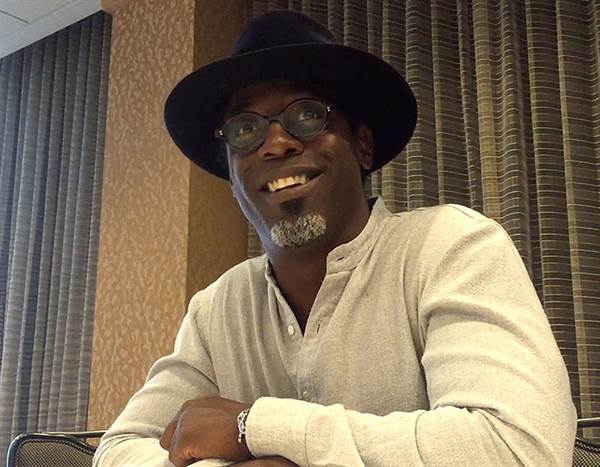 Last year at Comic Con we learned two main things about The CW's 100 - One: "The Ark" crashed on Earth and Two: the cast of the 100 was being kept prisoners, unable to escape the grounders press rooms & panels and needed assistance if they ever wanted to see the convention floor. And now, One year later, It seemed as if once again the cast of the 100 were counting down the minutes, and it seemed like even the Reapers couldn't stop them from sneaking away from the press & publicity machine that drives this great series and wander down to convention floor before flying back to Vancouver to continue their work on Season Three!

So now that they survived the Mountain men, the Reapers and now have the chance to settle in and learn the lay of the land. And how much time will they have before Jaha and the Lady in Red bring the new rise of the machines? And what else could we sneak out of this well guarded cast about what's to come?

First up on the hot seat, the former Chancellor who now is chillin with his new A.I. hottie, Isaiah Washington.

Isaiah jumped right into character telling us "Jaha is now in possession of the bigger gun, he has access to the Lady in Red, Artificial Intelligence, a nuclear bomb. You know his mind set, it's a little different, he threw someone off a boat and the only reason Murphy survived is because he could what? Row. Jaha's bottom line has become extremely… chilling." Isaiah who truly knows how to command a table, also told us that there will be some very unusual pairings this season. So it sounds like Mr. Washington is going to have some fun this season!

Up next, the writer, producer and creator of "The 100", Jason Rothenberg. Jason told us that one half of the season would be mainly about the Grounder/Skyperson conflict escalating & changing and the other story will revolve around the A.I and Jaha. He also said that we will learn more about the Ice Nation and hinted that we might meet its queen, but will meet characters from there "Early" on in the season.

In the end of season two Clarke Griffin walked out into the woods to find herself and now Eliza Taylor finds her way to our table to talk about her struggles with Clarke. "She's gonna be loosing her mind a but. She abandoned her people which is very unlike her and she's running away from her problems, so she's gonna be getting weird in the forest by herself" Eliza told us. She also told us that they were going a bit more sci-fi this season. I had to ask her about the few episodes after escaping from the mountain men with Lexa when she was covered with mud and she laughed and said "I hated that! I don't want any more mud! I said to them afterwards you are never doing this to me again. It was gross. I couldn't sit down, I couldn't eat with my hands, I had someone feeding me. I was kinda excited when I read it but then the reality of it…no….not doing it again." She also talked about Lexa's betrayal and how Clark's heart will be a bit harder, that she hopes Lexa will return because she thinks Clarke and Lexa have a lot to discuss.

And last but not least, the beautiful and charismatic Lindsey Morgan who plays Raven Reyes.

Lindsey told us that this season we will get to see what losing Finn meant to Raven, what killing all those Grounders in season one felt like to Raven. Clarke's absence is going to way heavily on her as well considering they both share a loss (of Finn) that no one else can understand how that feels, except each other and now Raven feels even more alone loosing Clarke as well.

When asked if Raven is going to avoid getting hurt this season, she jokingly said "Raven's not going to get hurt at all! She's going to live in a bubble and bubble around to the city of light" and did admit that she wishes that they would give her character a little break and not hurt her so much but "one of the best things about Raven is she's always rebuilding herself, ya know, and she's not going to give up on herself and I will say season 3 is gonna test her in a different way that any other season has, so hopefully she'll stay strong." She also hinted that in season 3 Raven and Dr. Abigail Griffin may be bumping heads a bit. Sounds like some tension in camp Jaha!

Well, It was a ton of fun sitting in and talking to the cast of "The 100" and hope they escaped and found their way to explore the strange landscape and grounders that surround Comic Con San Diego. It may prove to be more dangerous than facing the Reapers since this show is taking off with many new viewers popping up each day! Hopefully, we will be talking again about the success of season 3 and the upcoming 4th season in 2016!