Aug 14, 2015 09:35 AM EST
Home Director, Tim Johnson, Discusses His Labor of Love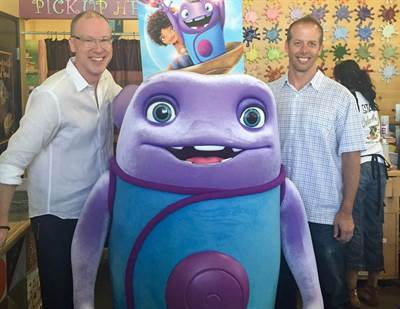 The recent Blu-ray release of the animated film Home gave me the opportunity to discuss several aspects of the movie with Director Tim Johnson (Over the Hedge, Antz). His passion for the project, and for animation as a whole, is evident with every sentence he utters. However, being able to bring this book, one he had shared with his young sons, to life made the end product even more special.

Johnson described to me the seven-year journey it took to bring this film to theaters and how he could make what was seemingly "two characters in a car" more than just that. From the casting to the music, every aspect of this film was well thought out and deliberate.

While describing the casting process, Johnson divulged that tossing Rihanna's name around had actually begun as a joke but quickly morphed into a viable option for the character of Tip. He discussed how they were looking for a "young Afro-Caribbean woman" and he said, "You know, Rihanna is from Barbados". From that point, everything happened organically and very fast. Johnson stated, "From the time we contacted her on a Tuesday to the time she was on board with this movie, I think it was like Thursday". He also mentioned that Jim Parsons (Big Bang Theory) had been involved with the project for 3 years and that "working with him was a kind of a partnership". Johnson found Parsons to be extremely hard working and invested in the film.

Johnson also talked about the overall theme of the movie. "The idea we owe each other a level of understanding and feel what it is like to stand in someone else's shoes" was the most important idea he wanted to get across. "By having these two characters alone in a car on a long journey while having to rely on each other is both intimate and vulnerable," he continued.

When speaking about the music for the film, Johnson was clearly excited to state all the songs, except one, were original and that he decided to go with pop music mainly because he felt it was the music of the world nowadays. He also expressed how terrific it was not only to have Rihanna play the lead role but to also have her lend her musical talents to the movie's soundtrack.

From start to finish, it is evident from talking with Johnson that this project was a labor of love for him and that he is immensely proud of the film. He also hinted at a possible "big announcement" coming in the next few weeks but couldn't talk about it yet. If his next project is anything like Home, it will surely be a hit with great music, talent, and a moral message.

If you didn't get a chance to see Home in the theaters, I suggest you take the time to catch it on Blu-ray. I don't think you will be disappointed.
About Allison Skornick-Rose
comments powered by

Disqus