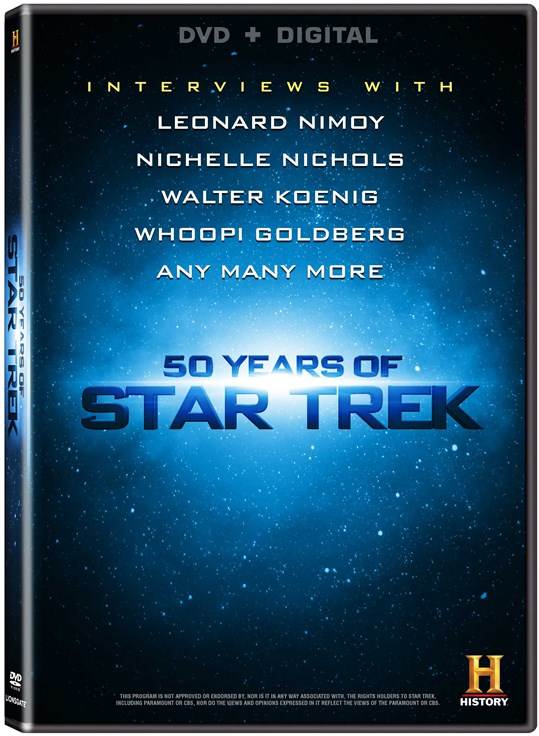 50 Years of Star Trek is available for Purchase on Both DVD and Digital HD

As I sit in my chair watching the 50 Years of Star Trek DVD (just released everywhere), which was originally aired on the History Channel, I find myself pondering why… or should I say how could anyone try to sum up the Star Trek universe in 1 hour and 24 mins. Seriously! 50 years of STAR TREK!? The original series had 80 episodes, Next Gen had 176, Deep Space Nine 176 Episodes, Voyager 172, Enterprise 98 and in 2017 Bryan Fuller will launch Star Trek Discovery out of the docks! Not to mention the 13 feature length movies that have wowed us since 1979 to the release of Star Trek Beyond this past summer.

No, really… where to start?

Well, unlike most documentaries where they would dive directly into September 8, 1966 and the beginning of the TV series that couldn't keep up with the demand for red shirt uniforms, this show starts off with a panel of guests that include Matt Mira, Kevin Pollak, John Putman, Jeri Ryan, Bobak Ferdowsi & Doug Drexler talking about their memories and the influence that Star Trek had on their lives. Of course, that teases and leads into the multitude of stars talking about Gene Roddenberry and his vision of a new TV show and how, if it wasn't for Lucille Ball and Desilu Productions, the series may not have been made.

Of course, with the fact that this series was aired in 1966, race and current affairs had to come into play and this series took it on like no other. In fact, it was Star Trek that gave TV its first interracial kiss. Hard to believe today with how mixed our society is, but, 50 years ago, that was a HUGE deal!

After summing up the original TV series, they progress into the film series. Moving through with great speed, this documentary passes through 1-5 pretty quickly, with a fun moment with Christopher Lloyd. Within a blink, they jump tight into Star Trek the Next Generation and before you blink again, The Next Generation hit the big screen. You really need to stop blinking, because in minutes you fly by Deep Space Nine and into Star Trek Voyager with comments from Sarah Silverman (who was only in 2 episodes) and Roxann Dawson, and a blip on Star Trek Enterprise, the smallest of the franchise spin offs.

One of the funniest moments was when Gene Roddenberry was told how southern states were complaining about Nichelle Nichols being a main character, he told them "F* you". Another one of my favorite parts was when you're informed that MLK stepped in when Nichelle Nichols was offered a role in a Broadway show and told her, her work on the show was too important to leave TV.

Of course, the panel gets into a discussion about how the imagination of the series influenced real technology like flip phones, iPads and even computers that talk, like Siri.

The last half hour is more a summary of what people took away from the Star Trek universe, favorite episodes, a discussion of favorite captain. Is yours Captain Kirk or Captain Picard? Because others obviously didn't come into play… Poor Janeway!

But, in the end, the real celebration here is the fact that this series has spanned 50 years and no matter how you celebrate it, the true fans will always tune in. This documentary may not bring you a lot of new info, or enlightening facts… but does that matter? There's a reason why us Star Trek fans watch. As a kid, I remember it was the one night of the week my Dad was guaranteed to be in front of the TV (and dare not speak till commercial time). As I grew older, my eyes teared up in the theater as I watched Spock telling Kirk "I have been, and always shall be, your friend", and, also as I got older, I, like my father before me, got attached to my own captain. Captain Picard was my captain. Yea, Kirk was a bad ass, but there was something more about Picard that made him special. And, I will totally admit, while some of this footage was filmed at the San Diego Comic Con World Premier of Star Trek Beyond, I sat 20 seats down the same row that Nichelle Nichols did, feeling like a little kid all over again.

Star Trek will always have a sentimental place in my heart, like so many others out there. While this documentary may not have been the ultimate celebration that some of us would have wanted, it was still a welcomed celebration of a series that so well deserves it! My only issue with the documentary is the music that background all the great interviews and at times tends to almost drown out the comments made by the guests. Sadly, when you are spoiled by compositions from the likes of the great Jerry Goldsmith & James Horner… these looped knock offs just aren't really needed.

I give 50 Years of Star Trek 3 STARS out of 5.

For those that don't know the series well, it cliff-notes the series well, and for the fans, well we've seen most of it all before… but you'll still enjoy… boldly going …down memory lane.

Live Long and Prosper!