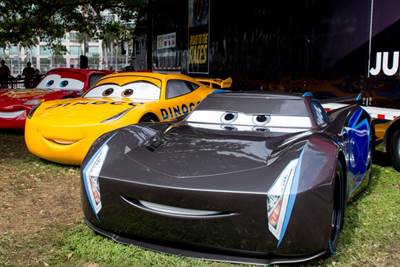 Off To The Races!

Sunday is always the best day to enjoy a bit of car racing, whether it's NASCAR, Indy…..or hanging with our favorite Cars personalities Lightning McQueen and gang which is what we got to do today in Miami. If you haven't seen any teasers or posters in your local theater, Disney and Pixar are releasing the 3rd installment of their popular franchise, aptly named "Cars 3", due in theaters June 16, 2017!

To promote Cars 3, Disney and Pixar along with a handful of sponsors (Alamo, Coppertone, Crest, Oral-B, Dole & Mattel) have put together quite a fun promotional tour that kids and adult fans of the series will enjoy! In a 27-city tour, this "Road to the Races" tour will have all kinds of activities for the kids to enjoy. They have Coloring & cut outs that make 3-D models of the cars along with a photo booth where you can get a picture of you and Lightning McQueen sent to your social media pages automatically. They have an area with new Mattel Cars 3 toys that the kids can play with. Dole has a both with refreshing smoothies and they even have an area where you can test your skills at replacing a tire! Who knows…maybe Lightning McQueen may choose you to be part of his pit crew if you're fast enough!

Sounds fun right? But that's not the best part! The best part of this Road Show is the Stars themselves! You get to be up close and take pictures with Lightning McQueen, his tech-savvy trainer Cruz Ramirez and the newest, biggest and fastest next-gen racer Jackson Storm who plans to keep the Piston Cup for himself!

Of course, a Road Show wouldn't be complete without teasing some footage from the new film would it? Special for this event is a huge moving theater, a massive truck (personally I think Mack just got a paint job because you know the two always travel together) with theater seats and a nice size movie screen all enclosed in A/C …which was perfect for the Florida sun…not only shows footage from the film but has behind the scenes footage with Pixar's mastermind John Lasseter, along with an exclusive scene only being shown at these events!

Trust me, if you're a fan of Disney's Cars series….you won't want to miss your chance to get a photo op with Lightning McQueen and friends in your own home city! To find out which of the 27 cities you are close to along with the dates of their visits, go to http://movies.disney.com/cars-3-tour.

Oh and don't forget, when they take your picture with McQueen…remember don't say Cheese….say KaChow!