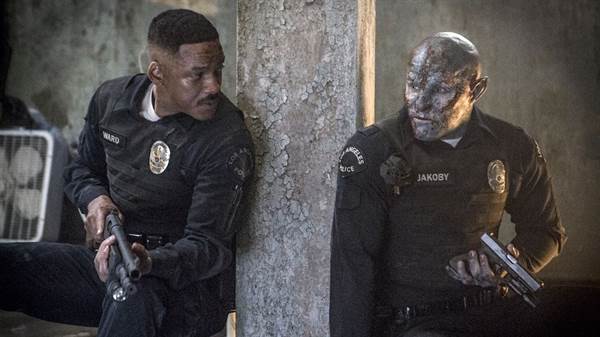 If you've never been to San Diego Comic Con then you know the place to be every day is Hall H, but if you haven't then let me tell you… Hall H can pack in up to 6,130 attendees (which only makes up 5% of the total guests at SDCC on a daily basis) and most of the lucky few that make it into a Hall H event have had to wait for AT LEAST overnight for one of these coveted seats. That's why you know you've made something big, something important when you end up center stage in Hall H!

Who's on the floor of Hall H? NETFLIX baby! Yup Netflix this year brought to San Diego Comic Con TWO major films, Death Note and Bright taking on the traditional way we view movies in theaters and bringing new films straight to your very own private home theater.

So who's your moderator for this big presentation? Terry Crews! The star of Brooklyn Nine-Nine & Every one Hates Chris, and let's not forget about all those wild Old Spice commercials we crack up on!

Shall we Begin? First up "DEATH NOTE"! "Death Note" comes from a comic books series out of Japan and was first released back in 2003. The basic Concept is Light Turner (Nat Wolff) a high school student comes into the possession of a notebook, which he learns that by writing someone's name in this notebook he can have them killed instantly, hands clean…..well sort of. How did get the notebook? Ryuk, the books original owner (Voiced by William Dafoe) dropped the book into the human world…well out of boredom.

The Cast, Nat Wolff, Margaret Qualley, Lakeith Stanfield, producers Masi Oka & Roy Lee and Director Adam Wingard were on site to talk about the film and even show a few sneak peeks! The first of which was a crazy cool trailer that shows just how creepy this storyline is going to be and the second clip is of Light first getting instructions from Ryuk. Ryuk tells Light, in the clip, that all he has to do is put the name of bully he is watching outside (that's tormenting another student) in the notebook and he will be gone. Light hesitantly says he would if he had a pen and Ryuk clicks a pen in his hand, holding it out towards Light. Then in the creepiest tone, Ryuk says "Now as long as we're playing, let's do it right. There's no need to stop at who." And Light responds with "What else is there?" to which Ryuk responds slowly "How." Light then writes "Decapitation" in the book and the clip ended with thunderous applause in Hall H. While the cast answered fairly easy questions about their inspiration and their favorite scenes, for me it seemed like the panel was desperately missing William Dafoe. The clips shown at the panel were so heavily driven by William Dafoe's vocal and I think they really needed a little star power to the panel. Though I will admit, when Masi Oka yelled his hero's Cry, "Yatta", the crowd along with myself loved the moment.

Then came one of my favorite moments of the day. Terry Crews announced his "Street Kings" director David Ayer (director of Suicide Squad & Fury) to the stage to promote Netflix biggest blockbuster investment "Bright". Terry excitedly hugged it out with David Ayer...Ayer yells out "This is the house of Netflix" and Terry Crews yells out "Netflix house BITCH!" and followed with "Oh God, I think I went over, I think I won't be back" which was just plain outright awesome on so many levels!

Bright's panel also included Producers Eric Newman, Bryan Unkeless along with Joel Edgerton, Noomi Rapace, Edgar Ramirez, Lucy Fry and the one and only Will Smith!

Before the Panel came out they showed the trailer for Bright and during the panel, they showed a bonus scene. Bright is a cop in a fantasy film where A human cop is forced to work with an Orc to find a weapon that everyone is killing for. Basically, think all the magic of Bad Boys (with an Orc standing in for Martin Lawrence) set in a Lord of the Rings type world stuck in L.A. Netflix spent close to 90 million to produce and sets the tone for a whole new way to consume box office films without theatrical releases.

With every panel comes basic questions but It's the power of Will Smith that can just electrify an audience. Joel Edferton talked about how filming in downtown L.A. showed him that while he could be completely covered in prosthetics looking like an Orc, people would freak out more when they catch a glimpse of Will Smith. Edgerton said, "who cares that his chauffeur is a monster!" they'd just be yelling, "Will, Will!"

Will Smith also talked about how in this film written by Max Landis, has a class structure within this fantasy realm and explained that it's Fairies at the top, humans and then the Orcs and how amusing it was to see Racism from the opposite side of it. But the one thing I love most about Will Smith is that he takes the time to notice things like how Lucy Fry & Edgar Rapace were basically never spoken to during the panel, and in the middle of questions from the audience he took a moment to point out this was Lucy's first time in Hall H and "Give her some love" and "We love Edgar….he's so handsome"

But it was the question about how Will keeps making Sci-fi films and what makes him keep returning to them to which he replied, "when Star Wars came out, I've never been smashed like that in a movie theater", that he was completely blown away and for his entire life he's been chasing trying to give that feeling to fans. Then he said, "I had sex a few years later, that was pretty, it was close, but no Star Wars!"

Bright looks amazing! The trailer was Booming in Hall H and after Death Note & Bright….It was quite evident that "Netflix & Chill" with either film, would come with bigger thrills and palpations. Combined they may need a health warning!

Check out "Death Note" coming to Netflix August 25th and "Bright" December 22nd!