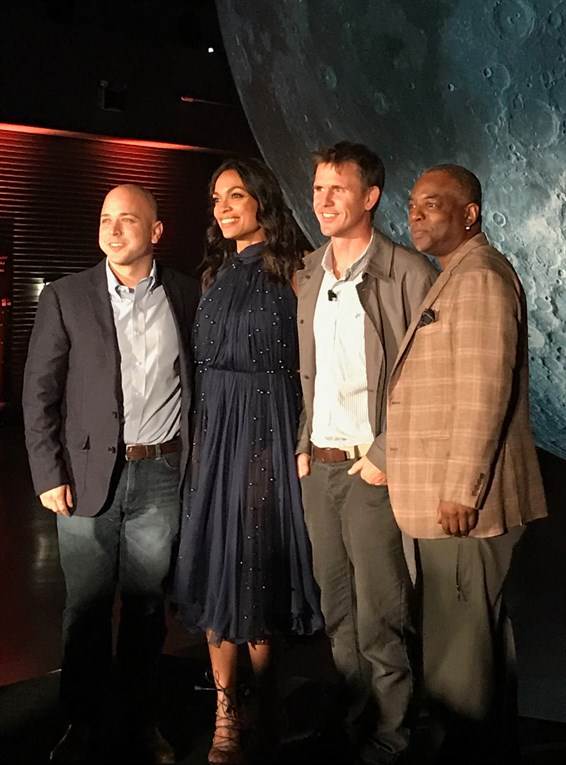 Famed Artist Luke Jerram kicked off the US debut of his latest exhibit in New York City in grand style by teaming with Audible.com as they previewed New York Times Best Selling author Andy Weir's newest audiobook, Artemis. The seven-meter orb internally projects imagery of the moon's surface including craters and abnormalities.

The exhibit opened on October 5th at the Classic Car Club of Manhattan at Pier 76 with a moon "lighting" ceremony that included a reading of an excerpt of Artemis, coming exclusively on Audible.com on November 14, 2017. Rosario Dawson joined Jerram and Audible's Chief Content Officer Andy to light up the moon and recreate a portion of her reading of the novel.

The event was a magnificent display that also included Neil deGrasse Tyson and a special appearance by Levar Burton. With the fanfare expected of a moonlighting, the glow illuminated the darkness with an impressive display of awe and serenity only to be enhanced by the melodic tone of Dawson's voice.

The "Museum of the Moon" exhibit will continue throughout the world including stops in Hong Kong, Slovakia, Leeds, Barcelona, and Dubai Culminating in January 2018.

Weir's Artemis is the near future fictional tale of a heist story set on the moon when a small-time criminal gets in over her head.