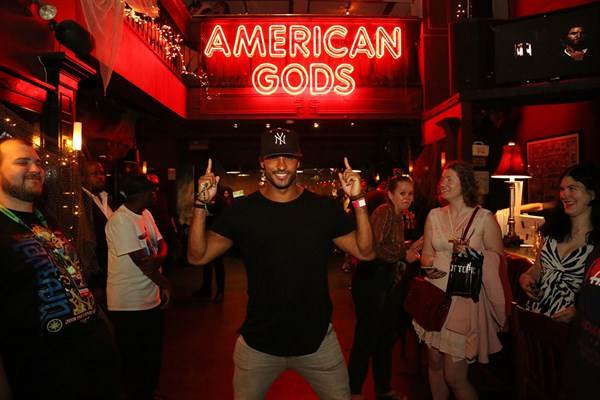 New York Comic Con is not just exhibitors in a convention center, panels with the stars of your favorite shows and movies, or cosplay costumes. It's a fully immersive fan experience including some great extras including fan parties.

The popular STARZ television show American Gods offered one on Saturday night in Downtown NY for fans of the show. The network took over Stitch bar on 37th street and transformed it into Jack's Crocodile Bar from the show for a fun evening that ran from 7 pm to 11 pm.

Upon entering the bar fans were greeted with a huge, red neon sign clearly proclaiming "AMERICAN GODS" and offered a swampy atmosphere including fish netting and various creatures. Towards the back, there was an opportunity to take a photo with props, including said creatures, and have it emailed to you as a memento of the event. Fans could also share the photo on social media to try to win a prize - either a Jack's Crocodile Bar glass or Mad Sweeny's lucky coin just like the ones seen on the show.

There were themed specialty drinks one could buy and hors-d'oeuvres available throughout the night - sadly those weren't show themed though. However, the real treat for fans came when the stars of the show Ricky Whittle, Pablo Schreiber, and Yetide Badaki came out and mingled for a little while talking to and taking photos with fans. Video screens set up around the bar also showed scenes from Season One of the popular series.

All of this frivolity and splendor was to celebrate the American Gods: Season One Blu-ray release available on October 17, 2017, so mark your calendars!