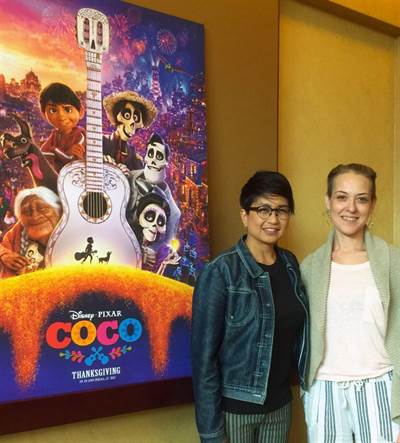 Recently, FlickDirect had the opportunity to sit down for lunch with Pixar's first female Supervising Animator, Gini Santos. As one of two Supervising Animators on the upcoming Disney/Pixar film, Coco, Gini gave us some rare insight into the extraordinary and extensive collaborative effort (with much passion from all involved) that occurs to bring a film like Coco to life. Gini has been with Pixar Animation Studios since 1996 after reportedly submitting a reel in lieu of a resume; it included characteristics for which she would garner acclaim in future films. Her first post at Pixar was as a character animator on Toy Story 2. Since then, she has worked on many of Pixar's greatest films (with a few Academy Award Winners among them) including Finding Nemo; The Incredibles; Ratatouille; Up; Monster's Inc; A Bug's Life; Brave... It was her work on Finding Nemo that won her praise, and award nominations for giving Dory a real, almost human feel.

A little background to better understand what was discussed, Coco is a film about a family that happens to be set against the backdrop of the Dia del Muerto celebration that takes place in Mexico. A young boy, Miguel, dreams of becoming a musician like his idol, Ernesto de la Cruz, a character whose essence is drawn from numerous Mexican icons from the past to capture a "Mexican Elvis" of sorts. Most notably, Pedro Infante and Jorge Negrete provided the characteristics and nuances for de la Cruz; both of whom had extensive material from which to draw thanks to the availability of old concert and performance footage online. (Listen to Gini describe it in her own words along with much more.) Unfortunately for Miguel, there has been a ban on music in the family since long before he was born. (Catch the review for more details on that... coming very soon.)

Before the slightest sneak peek at the film or the "behind the scenes" efforts, one can't help but already be swept up into the excitement and vivid imagery just from listening to Gini Santos. The way she speaks about how the "richness and beauty of Dia del Muerto" provided the "visual perspective that evokes intrigue and emotion, but even more powerful than the images...the spirit of the celebration." She goes on to discuss how drawn to this world the entire team found themselves. Pixar's commitment to "getting the story right" along with everyone's commitment to authenticity meant the team would have to go to Mexico. Go they did, and they "immersed [themselves] in the traditions and the people."

Gini credits Producer Darla K. Anderson and Directors, Lee Unkrich and Adrian Molina with having "set us up so well to do a really good film, and make it as authentic as we could." They traveled on several occasions over years with the crew to gain "deeper education [of] and inspiration [from]" the culture and traditions. She tells how "these trips influenced every part of Coco's production from story to music to design, and even to the way we're lighting the film." It was on these trips that was born the need to create a place for the vibrantly colorful alebrijes of carved Mexican folk art. They created "fantastical alebrijes" that "when the lights go down, they actually glow in all these colors."

We got an early look at some scenes that at the time were "somewhat a work in progress, but it's almost there." Where better to begin than the beginning of the film where we get some background on Miguel's family, and how the music ban came to be. We're introduced to Miguel's family at present which includes his great-grandmother, Mama Coco, for whom the film is named; and, Mama Coco's daughter, abuelita. Gini then segues into an early animation test that was done when creating Miguel's grandmother, abuelita.

As it turns out, a lot of time was invested in creating her to ensure that "her jowls, her neck, her arms...jiggle just right" to the extent that one of the animators on the film "invited his abuelita" who let the team "study all her loose skin, and [she] was such a sport...and enjoying herself." This points to the inclusion of the diversity on hand at Pixar. In this case, Gini discussed the input that was both provided and sought from the many latino animators and team members. While some were Mexican and provided specific details relating to their culture and history, other latinos were able to provide input on a broader though detailed level.

One scene, in particular, that was animated by a latino animator has a character making the sign of the cross. As he remembered it, his grandmother and mother would always do that when something happened. Most of us exposed to the Latin culture can acknowledge this as a basic, common occurrence. This scene also points to animators "putting their stamp" on things or merely being identified in their work by other animators. Much like the "Easter Eggs" that might be placed throughout the film. Gini claims the Director is the one who places them, and she even has to look to find them. She did, however, point to one that was in a scene that we viewed...the pizza truck. (Yes, I will be looking for it in the film to point it out to the screeners beside me.)
Beyond the exhaustive (though fun) work that went into capturing every nuanced detail of abuelita, one of the biggest challenges would be to animate the skeletons. Animators had to figure out how to "respect structure and design while giving [a skeleton] emotions and personality" to make them believable. It was a challenge to have to "strip away" all the "skin and bone and tissue" from the animated humans that Pixar has come to execute so well. Gini took us through the process "starting early on with a rig. A basic rig. A skeleton rig." (Rigs are "digital models that have controls.")

Starting with a walk cycle, using the bare bones to make it funny. "How far they move independently from each other free from the bonds of tissue." We saw three of the early test animations which provided samples (and the evolution) of the varying degrees of bone separation, the spine with the rib cage, range of emotion...movement. Gini told us how Dustin Hoffman's Midnight Cowboy character, Ratso, inspired the walk of Hector (a skeleton who has yet to cross over but becomes a significant part of the journey).

As with the "fantastical alebrije creatures" including the main alebrije, Pepita, lighting can make a crucial difference in the animation, and the final product. When we asked how the industry has changed, Gini provided a detailed response which included everything from how technology has driven much of the change, to the process itself. From having done it sequentially, they discovered that having the film go to lighting after animation changes the look for which so much effort was made to achieve. Now, the collaboration between animating and lighting helps create a texture that will guide the team throughout the creation and evolution of the animation(s).

The collaboration extends throughout every member of the team. Listen to Gini talk about all the positive experiences she has had at Pixar. After 21 years there, one of the things she loves most is "that they still try to maintain that [they're] director-driven. We connect directly with the director, each individual, each animator... foster that idea, whatever your idea when you first walk out of the shop... just show it to the director, get [their] opinion. The director will come in, and help support you." She adds that "they trust us with the creativity."

I look forward to viewing the full, completed film which promises to be "vibrant and colorful; brimming with celebration" where a "bridge of Marigold flower petals so beautiful, and almost alive" brings ancestors to visit their families in the land of the living; and, takes Miguel into the land of the dead. Stay tuned for my review with additional details...possibly a spoiler or two...