Jul 24, 2018 10:58 PM EST
Laika Studios Celebrates Ten years In A BIG Way at San Diego Comic Con 2018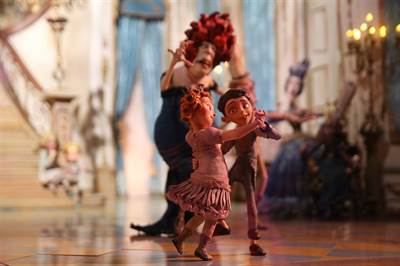 Laika Studio is known for their award-winning stop-motion animation features like Coraline, The BoxTrolls, ParaNorman and 2016's critically acclaimed, Kubo and the Two Strings. Their techniques are innovative and their films delight audiences worldwide so it is no surprise they were present at San Diego Comic-Con for the second year in a row. Last year they offered a sneak peek at some of the sets and figures from their movies and this year, in celebration of the tenth anniversary of Coraline, they went even better and bigger.

The studio created a pop-up store in the heart of San Diego's Gaslamp district and not only had figures and sets from their films but they recreated their workshop as well. Some of their staff walked visitors through the process of making a figurine or showed how they film a stop-motion scene. These added features were fascinating and insightful to reiterate how much hard work goes into each of their movies. Fans were also able to sit on a life-size replica of the couch from the Coraline movie as well as the ability to buy special, limited edition merchandise from all of their films.

Preview night also offered a special surprise when Coraline's Other Mother showed up. Teri Hatcher (Desperate Housewives) who voiced the character in the film gave a warm welcome to the crowd gathered while she gushed over how much she loved making the movie. Her presence made a lasting impression as she reminisced about Coraline, conversed with Laika executives and posed for photos with several of the Laika characters.

Laika Studios also gave fans a sneak peak of their latest feature Missing Link, which is set to be released in April of 2019. Guests of the exhibit were able to view part of the set and pretend they too were in the forest with Mr. Link (voiced by Zack Galifianakis; A Wrinkle in Time). The film also includes the voice talents of Hugh Jackman (The Greatest Showman) and Zoe Saldana (Star Trek Beyond).

If the Laika exhibit was impressive last year, it was awe-inspiring this time around. Their latest installment ran from July 16 -July 22, 2018, and saw thousands of comic con guests wander through their building.

It will be interesting to see how they top it next year.


comments powered by

Disqus