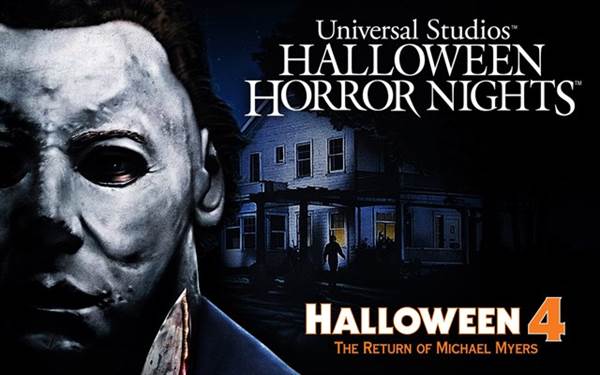 The news coming from Universal's Halloween Horror Nights just keeps on coming! The latest addition to the event's lineup will now include a Halloween 4: The Return of Michael Myers maze that will open on Friday, September 14.

Based on the fourth film of the franchise, the maze will allow guests to travel through the suburban town of Haddonfield, Illinois on Halloween night where Myers has escaped Smith's Grove Sanitarium and is hungry for revenge. This time, he has his sights set on Jamie, his niece.

Guests will follow Myers as he escapes the mental hospital, encounters his first victims at Penney's Gas Station and Diner, and wreaks terror on Haddonfield, all set to Alan Howarth's ominous score. The maze will include horrifying scares by Myers in his classic featureless white mask and navy jumpsuit, with guests dodging his bloody knife at every turn. Halloween fanatics can expect a cameo by Myer's psychiatrist Dr. Loomis and other famous characters from the film as they try to escape the bloodbath.

Universal Studios' Halloween Horror Nights has been the ultimate Halloween event for over 25 years. In that time, guests from around the world have visited Halloween Horror Nights in Hollywood and Orlando to become victims inside their own horror film. Multiple movie-quality mazes based on iconic horror television shows, films and original stories come to life season after season. And, the streets of each coast's event are transformed into highly-themed scare zones where menacing scare-actors lunge from every darkened corner.

For more information, and to purchase tickets, visit www.HalloweenHorrorNights.com.