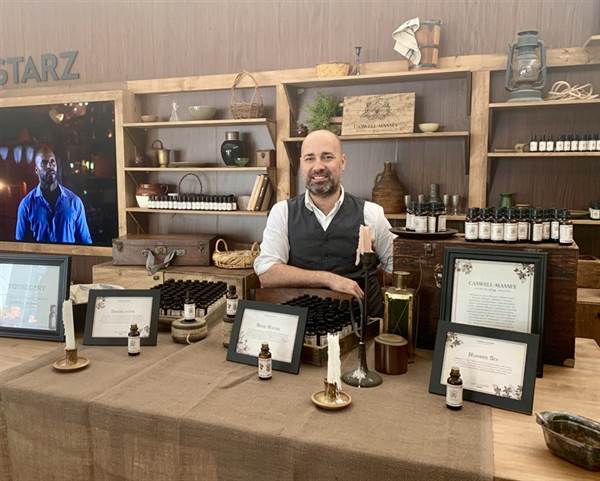 If you have ever watched two of STARZ network's most popular shows - American Gods and Outlander - then you will want to attend the fan experiences for these shows at New York Comic Con this weekend. First up, the American Gods diner. With its authentic wallpaper and placemats, it makes one feel as if they are able to have a cup of coffee with Mr. Wednesday. While their fans can take a photo and choose one of two backgrounds -either an old god or a new god - and pick up a Motel America T-Shirt.
Next, they can walk next store and step into the world of Outlander and Fraser Ridge where they can be treated to an old-fashioned printing press and have their initials stamped onto a leather luggage tag. Moving on to the other side of the room, they can then meet the Apothecary and pick up a complimentary bottle of one of three scents from Caswell-Massey - Sandalwood, Rosewater, or "Number Six"; the latter of which was worn by George Washington at his inauguration. Caswell- Massey, a real-life company based in Edison, New Jersey, has been creating scents since 1752.
Both settings offer a few Easter eggs and allow fans the opportunity to feel what it is like to be on the set of both of these shows. The experience is very well done and offers fans a lot to see and experience and to walk away with some great gifts. If you plan to attend New York Comic Con this weekend I highly recommend stopping by and immersing yourself in these interesting and unique worlds.