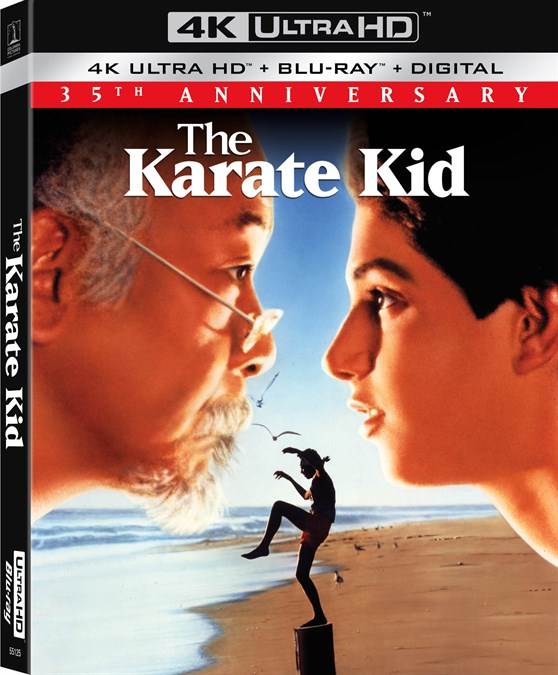 This Spring, Fathom Events will be running The Karate Kid in movie theatres to celebrate its 35th Anniversary. The limited release will coincide with the film's release on 4K Ultra HD from Sony Pictures Home Entertainment.

The fully restored film will play on movie screens nationwide on Sunday, March 31, and Tuesday, April 2 and the 4K Ultra HD will be released on April 16. The 4K Ultra HD will include a newly mixed Dolby Atmos audio track as well as the original stereo and 5.1 audio mixes, as well as "Remembering The Karate Kid," an all-new anniversary featurette with reflections on the film from Ralph Macchio (The Outsiders) William Zabka (Hot Tub Time Machine) and Martin Kove (Rambo: First Blood Part II).

Disc Bonus Materials Include:
ALL-NEW: "Remembering The Karate Kid" - featuring new interviews with Ralph Macchio, William Zabka and Martin Kove (on the 4K UHD disc)
"Blu-Pop™" Pop-Up Track - Activate the Blu-Pop feature to reveal pop-up trivia, interviews and more secrets from the film!
Commentary with Director John G. Avildsen, Writer Robert Mark Kamen and Actors Ralph Macchio and Pat Morita
"The Way of the Karate Kid" Multi-Part Making-of Featurette
"Beyond the Form" Featurette
East Meets West: A Composer's Notebook"
"Life of Bonsai" Featurette
Theatrical Trailer (on the 4K UHD disc)

Another treat for the moviegoers will be an exclusive sneak preview of season 2 of the hit YouTube Original series "COBRA KAI."

Last year marked the highly anticipated return of the iconic arch-rivals from THE KARATE KID films as Macchio and Zabka reunited in "Cobra Kai." The critically acclaimed and popular TV series recently landed on many "Best of 2018" TV lists, won Rotten Tomatoes' TV Drama 2018 category, and exceeded 50 million views on YouTube. This spring, a second season of "Cobra Kai" will return on YouTube Premium. A new rivalry between opposing dojos is born in the aftermath of Cobra Kai's controversial win at the All-Valley Championships. Daniel realizes his next countermove is to open his own karate training school called Miyagi-Do, in honor of his mentor Mr. Miyagi. What was once a personal feud between Daniel and Johnny escalates beyond their differences to engulf their students, who, as teenagers, are already challenged to figure out who they are and who they want to be. Which path will they follow - Cobra Kai or Miyagi-Do?