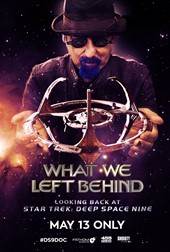 Fathom Events has announced that for one night only on May 13, they will be holding an event for the documentary "What We Left Behind: Looking Back at Star Trek: Deep Space Nine". The film presents a fascinating in-depth look at the past, present, and future of a series whose dark, edgy take on Gene Roddenberry's vision was often misunderstood when it premiered but has grown into a beloved mainstay in the Star Trek franchise.

"A point of pride for Fathom Events is our ability to give fans cinema experiences that enhance their understanding and enjoyment of the original programming they love," said Fathom Events CEO Ray Nutt. "'What We Left Behind' will take Trekkers' passion for the series one step further."

Ira Steven Behr said, "When Dave Zappone asked me if I wanted to make a documentary about Deep Space Nine, my first reaction was, 'What is there left to say about Deep Space Nine?' Well, William Faulkner once wrote, 'The past is never dead. It's not even past.' The cast, crew, and fans have a lot to say about Deep Space Nine. What We Left Behind is their story; it's my story, too. Turns out William Faulkner was a very wise man."

This event will take place in theatres across the country and will feature extensive new interviews with the cast and crew of Star Trek: Deep Space Nine as well as newly remastered HD footage from the television series, "What We Left Behind" also focuses on the original writers of the series as they craft a brand-new episode of Star Trek: Deep Space Nine, developing what would be the eighth-season premiere if the show were to return to the air today.

After the feature presentation, a taped roundtable discussion with directors Ira Steven Behr, David Zappone, and the film's producers will provide audiences with a comprehensive look at the making of the film, the show's fans and the series' ongoing appeal to Trekkers of all ages. Fathom attendees will also receive an exclusive double-sided poster with the theatrical poster art for "What We Left Behind" on one side, and an original illustration from the film on the other. (Quantities limited, while supplies last.)

Tickets for the event, which will take place on May 13, 2019 at 7:00 p.m. local time, can be purchased at www.FathomEvents.com beginning Friday, April 12.