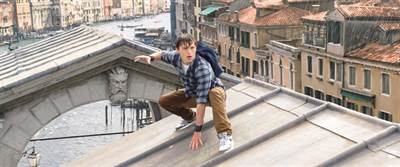 When you go to a Disney park, you expect a certain amount of magic in your trip. Well, guests of the Disneyland Resort got just that when posing for pictures with Spider-Man. The seemingly normal fan experience turned into something quite different!

As fans posed for their picture, Spider-Man: Far From Home stars Zendaya, Jake Gyllenhaal, and Jacob Batalon, unknowingly crept up behind them to pose in the photo. Then, to top it all off, Spider-Man revealed his true identity and it was none other than Spidey himself - Tom Holland.

The moment was captured by many fans in the parks.

Spider-Man: Far From Home will premier in theatres on July 2, 2019.



Tom Holland and the cast of Spider-Man: Far From Home surprised guests at Disneyland! This is the moment it all unfolded. Enjoy! #disneyland #disney #tomholland #zendaya #spiderman #spidermanfarfromhome #JakeGyllenhaal #disneylover @TomHolland1996 @Zendaya pic.twitter.com/TuzZZh80ZO

- ᴅɪsɴᴇʏʟᴀɴᴅ ɪɴsɪᴅᴇʀs (@DLInsiders) May 8, 2019