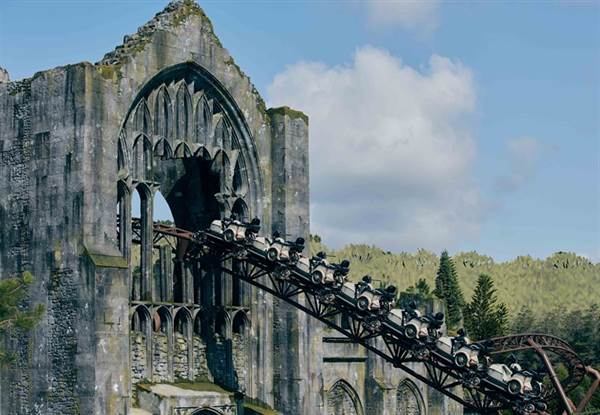 Hagrid's Magical Creatures Motorbike Adventure is coming to the Universal Orlando resort and it's promising to be quite the experience. From rich sets and an actual forest with 1,200 trees to ground-breaking coaster technology and a captivating storyline, the ride is the resort's most immersive coaster experience yet - becoming the world's first "story coaster."

Guests will board magical motorbikes and take a ride into the Forbidden Forest. The journey will bring them above the trees, while they rapidly accelerate through mysterious ruins, speed forward - and backward, and so much more as they search for the Wizarding World's rarest magical creatures. But before they begin their journey into the forest, guests will enter ruins which appear to have been abandoned for centuries behind Hagrid's hut. The ruins were imagined and brought to life by Universal's award-winning Creative team in collaboration with the Harry Potter films' Production Designer, Stuart Craig, and Art Director, Alan Gilmore. Hagrid now uses the ruins for groundskeeping at Hogwarts. And this is where guests' Care of Magical Creatures class will begin.

As they make their way to their enchanted motorbikes, guests will see materials from the class, including dragon eggs on the verge of hatching and a makeshift nursery where Hagrid kept his Blast-Ended Skrewts - the creatures that are being brought to life for the first time ever for this epic new adventure. Guests will encounter beloved characters from the Harry Potter films including Arthur Weasley, Hagrid, and his loyal dog, Fang, through a pre-show experience brought to life with digital projection and special effects. During this interaction, guests learn about their impending trip to the Forbidden Forest as part of their lesson for the day.

Hagrid's Magical Creatures Motorbike Adventure opens on June 13, 2019 and will be the newest adventure in The Wizarding World of Harry Potter at Universal Orlando. For more information on the ride or the Universal Orlando Resort, go to www.UniversalOrlando.com.