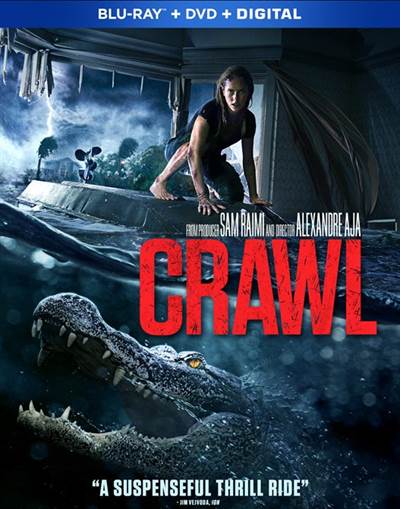 First, there were sharks inside a tornado and this July we got alligators in a hurricane, The surprise hit of the summer, Alexandre Aja's CRAWL, showed us what lurks beneath the surface when floodwaters from a hurricane invade one coastal, Floridian town. In honor of the Home Entertainment release of the film, FlickDirect, in conjunction with Paramount Pictures would like to give some lucky winner the opportunity to get a CRAWL Combo pack complete with a Blu-ray copy of the film, goggles, a flashlight, alligator jerky and more!
To enter for a chance to win this great prize follow these easy steps:
When a massive hurricane hits her Florida hometown, Haley (Kaya Scodelario) ignores evacuation orders to search for her missing father (Barry Pepper). Finding him gravely injured in the crawl space of their family home, the two become trapped by quickly encroaching floodwaters. As time runs out to escape the strengthening storm, Haley and her father discover that the rising water level is the least of their fears. From director Alexandre Aja (The Hills Have Eyes) and producers Craig Flores (300), Sam Raimi (Don't Breathe, Evil Dead) and Alexandre Aja, Crawl is a nail-biting horror-thriller heading to stores for home entertainment release on October 15, 2019.
Contest ends October 21, 2019. For more information, please visit the Crawl movie page on FlickDirect.
Rated: R
The contest is open to all US Residents in the contiguous 48 states. The winner will be asked to provide their full name and a valid mailing address via Private Message, but their personal information will not be shared or retained in any way.