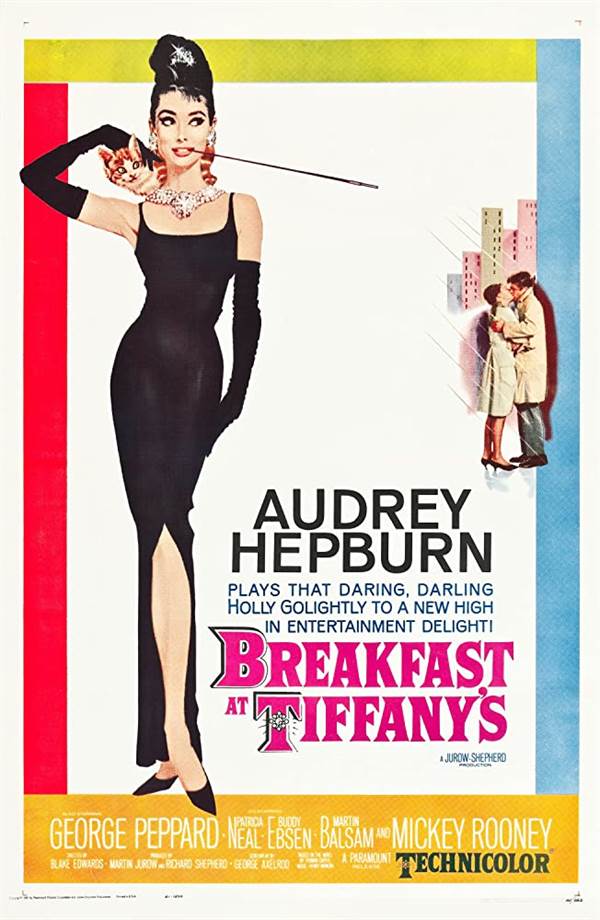 As we all hunker down during quarantine, social media has become an even more important aspect of our lives. Everyone has jumped on the "watch party" bandwagon but Cya.Live has been at this game for a long time and the last three weeks have seen some fun events with great commentary. On April 18th they brought us Tommy Boy with Director Peter Segal (50 First Dates), On April 25th it was Star Trek II: The Wrath of Khan with commentary by Inglorious Treksperts podcasters Mark Altman and Daren Dochterman and yesterday Film Historian Leonard Maltin and Paramount Archivist Andrea Kalas joined viewers for a virtual screening and Q&A of Breakfast At Tiffany's.
The 1961 Classic stars Audrey Hepburn (My Fair Lady) and George Peppard (The A-Team) as Holly Golightly and Paul "Fred" Varjack respectively. The two live in the same apartment building and share a somewhat common profession. Holly throws wild parties and is looking for a rich man to marry and Paul is the "kept man" of a wealthy decorator. He is hoping to be a writer but that last book he published was five years earlier. As the two spend more and more time together Paul realizes he loves Holy and wants to "save" her. Holly, however, still intends to marry for money until the day her latest conquest dumps her because of the scandal she became involved because of a Mafia boss she was being paid to visit in prison.
Hepburn is classy and elegant and, in several of her films, comes across as a little flighty and somewhat of an airhead. In this case, she is not only those things but scandalous as well. Peppard is a perfect match for Hepburn both in looks and acting ability and their relationship is completely believable. Sadly, some "behind the scenes" gossip that Maltin all but confirmed is that Peppard was difficult to work with and his co-stars weren't very fond of him. Also, while people found Hepburn's Holly adorable and flaky, I found her to be conniving and manipulative which dampened the spirit of the film for me.
Of course, what made this event so enjoyable was the camaraderie of those who joined the event and the tidbits of information imparted by Maltin and Kalas. There also seemed to be a running joke between the participants about their "quarantine" reading lists and suggestions that were made adding to the list including Sam Wasson's behind the scenes of Breakfast At Tiffany's book, Fifth Avenue, 5 a.m.
Since I had never seen this film before I enjoyed the format of the event this time which consisted of showing the film in three segments and having Maltin and Kalas speak and answer questions during the break instead of, as with past events, having the guests talking over the movie.
The restoration of the movie was wonderful with sharp details and rich colors. Of course. Hepburn's wardrobe was discussed in detail both by the audience and Maltin and Kalas. It was also great seeing some behind the scenes photos that were shown before the movie began and during the breaks.
Cya.Live has done a fantastic job bringing likeminded people together to enjoy some of their favorite movies and share the home movie experience together. During this unprecedented time, they help bring a sense of community togetherness which is always a wonderful way to pass the time and watch a movie. They do have other offerings on their website but I am hoping they can host more of these classic film events in the near future.