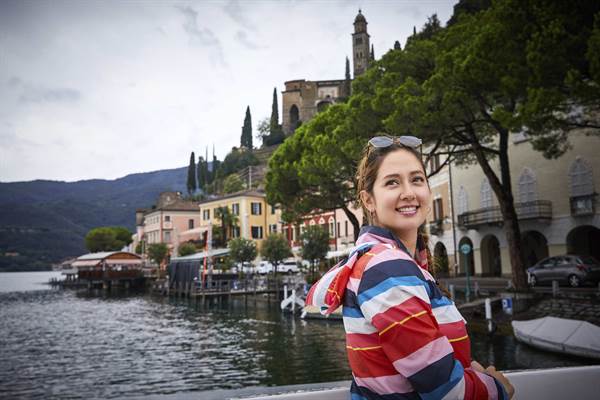 Travel show host, speaker, and producer Alana Nichols will be bringing her award-winning travel series Follow Alana to the U.S. The premier for the upcoming 13-episode season will take place on March 19 on digital platforms.

FOLLOW ALANA: SWITZERLAND highlights the pastoral beauty of Switzerland's countryside and alpine scapes, delving into iconic Swiss culture, from exploring the Heidi Village to interviewing Roger Federer, eating at the world's oldest vegetarian restaurant in Zurich, paragliding in the Alps, and trail scrambling with St. Bernards. Viewers get to experience the best that traveling in Switzerland has to offer.

"I've always been curious about cultures and lifestyles that are different from my own. Guided by my travels to different parts of the world, I've seen our universality and it's broadened my perception of life, a discovery I hope viewers feel when watching this series," says Nichols. "Through the series, I hope viewers foster a sense of curiosity and wonder about the world, open their mind, and gain inspiration to pursue their dreams."

Born in Taipei to an American mother and a Taiwanese father, Nichols entered the world with an extremely rare form of deafness. While her mother noticed she was unresponsive to sound at eight months old her condition remained undiagnosed and untreated until her second year of infancy. Consequently, her parents undertook an international search for a solution across Asia, America, and Europe. After many months of effort, it was in Australia that they found a physician who - despite enormous doubts - agreed to perform experimental cochlear implant surgery. Through her series, Alana aspires to use television as a vehicle to tell stories and be a catalyst for positive change. She is an internationally sought-after speaker, having spoken across the globe, most recently addressing the World Health Organization on issues relating to deafness and hearing care.
In addition to exploring the dimensions of Swiss culture, FOLLOW ALANA: SWITZERLAND introduces diverse sceneries, lifestyles, and cuisines of various destinations which emphasize building a loving and sustainable relationship with the environment. First premiering in Taiwan, the series earned 10 silver and bronze 2020 Telly Awards, a 2020 Remi Award at Worldfest-Houston International Film Festival, and was nominated by the 2019 New York Festivals and the International Television & Film Awards.

She has also been honored as a Champion of Hope in 2020 by the Ronald McDonald House Charities of the Philadelphia Region, an accolade celebrating her acts of volunteerism, philanthropy, and goodwill.