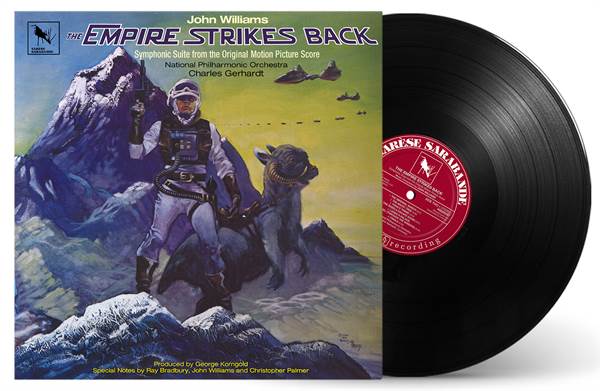 Composer John Williams was born in 1932 in Queens, New York. Over the span of a seventy-year career, he became a composer, conductor, pianist, and trombonist and has won an astounding twenty-five Grammys. He has also been nominated for fifty-two Academy awards, placing him just behind Walt Disney for the most Oscar nominations. His 1977 score for Star Wars was chosen as the greatest film score of all time by the American Film Institute and his Star Wars soundtrack entered the National Recording Registry by the Library of Congress. On July 23, 2021, The Empire Strikes Back: Symphonic Suite from the Original Motion Picture Score vinyl album was released too early awaiting fans.
Varèse Sarabande Records is re-issuing this LP, which has been out of print for over 40 years, at a time when vinyl records and record players are having a resurgence in the realm of commercial music. At the time of its original release, this one-disc album was meant to supplement the 2-disc LP soundtrack and includes a "Symphonic Suite" which Williams created for concert performances. It also offers different arrangements of some of the film's score. Aside from the normal black vinyl release, Varèse Sarabande Records is also releasing the album in a limited edition of 1,500 on marble/grey colored vinyl.
Performed by the National Philharmonic Orchestra and conducted by the legendary Charles Gerhardt, this album is a treat for any music or soundtrack fan. True fans of records know that vinyl offers a depth and richness to the music that compact discs never could and a score, such as The Empire Strikes Back, benefits from the numerous layers encased on this LP. The violins, trumpets, drums, symbols, etc. make bold statements as they blend to offer a robust interpretation of Williams' work.
The LP is housed in a gatefold jacket that boasts the original Star Wars paintings by William Stout. It also includes images of/writings from Williams and notes from author Ray Bradbury and critic Christopher Palmer. Gerhardt's expert musical phrasing allows the listener to experience these arrangements in a way that brings them to life. This LP is an immense, aural experience that celebrates Williams' and his iconic score.
If you are a Star Wars/John Williams fan, do yourself a favor and head to Amazon to order this incredible record today!

TRACK LISTING
Side A
20th Century-Fox Fanfare (0:21)
Main Title/The Imperial Probe (5:25)
Luke's First Crash (2:29)
Han Solo And The Princess (4:26)
The Asteroid Field (4:12)
The Training Of A Jedi Knight and "May The Force Be With You" (1:56)
The Battle In The Snow (3:06)
Side B
The Imperial March (3:21)
The Magic Tree (3:38)
Yoda's Theme (3:34)
The Rebels Escape Again (3:01)
Lando's Palace, The Duel (Through The Window) (5:01)
Finale (4:39)