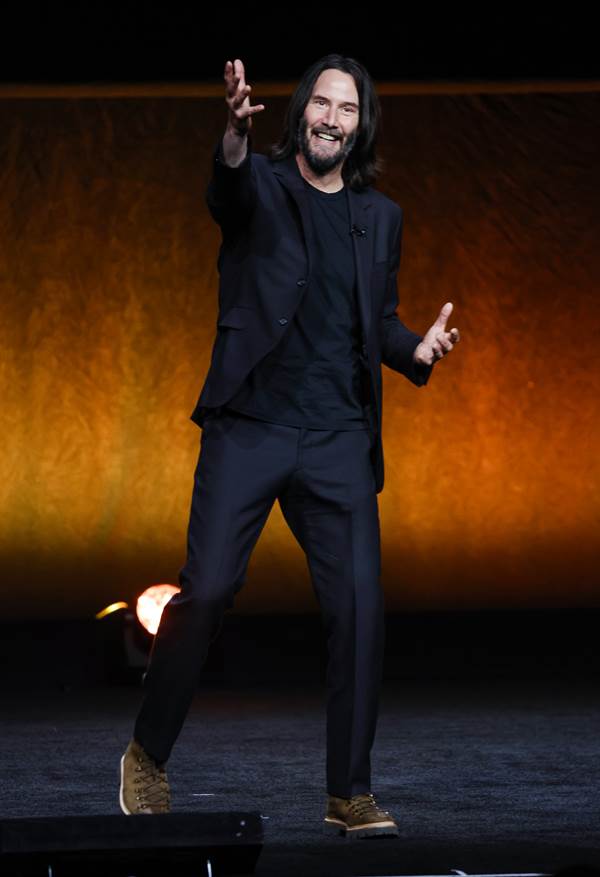 April 28, 2002, Las Vegas- While the last day of CinemaCon is always a little bittersweet, there was plenty of excitement this morning as attendees made their way to Cesar's Palace Coliseum for the Paramount presentation. As per usual, Paramount likes to be on the "flashier" side of the spectrum in terms of presenters and this year was no exception. To get the crowd going, they opened the show with a myriad of entertainers (think Cirque du Soleil) which served its purpose of making sure everyone was awake at 9:15 am PST. Of course, once that ended, the management team addressed the NATO community.
After touting their features that have already been released so far this year - The Lost City, Scream, Jackass Forever, and, of course, their latest release, Sonic the Hedgehog 2 - they briefly showed some of the films still yet to come later this year. The audience was treated to quick snippets of Mission: Impossible 7, Dungeons and Dragons, Paws of Fury, Transformers, and Babylon. However, all of this was merely the appetizer to the main course - an advance screening of Top Gun: Maverick, which had been announced last week. While I can't say too much about the film yet (I'll post my full review in mid-May), I can say that this sequel was worth waiting for over three decades to see.
Leaving the Coliseum, you could hear people buzzing about the movie as they headed to lunch, co-sponsored by Fathom Events. Fathom CEO, Ray Nutt, briefly spoke about weathering the pandemic and the great content coming to theaters, With their slogan, "Be Animated, Be Entertained, Be Inspired", Nutt said they are planning to have over one hundred events this year. He spoke about their faith-based programing, Anime films, and a Golden Girls event. They also announced a movie about Johnny Cash that explores his talent, his faith, and his inner demons.
As they do every year, Lionsgate closed out the studio presentations after lunch. After a great sizzle reel was shown to get the audience excited, they introduced the master of ceremonies, Comedian Sebastian Maniscalco who entertained everyone before showing the Expend4bles trailer. Just like the previous expendable movies, number 4 promises to be as violent and bloody as its predecessors. Next is The Devil's Light - a horror movie about demonic possession with a little twist to it. Maniscalco then brought Rachel McAdams and Abby Ryder Fortson on stage to introduce the trailer for their new movie, Judy Blume's classic, Are You There God? It's Me, Margaret.
Also coming from Lionsgate is a sequel to the movie, Wonder, called White Bird starring Helen Mirren. Though Wonder was a family-friendly movie, White Bird is darker with themes surrounding the Holocaust. Maniscalco was excited to finally introduce his co-stars, Leslie Bibb, Robert DeNiro, and Kim Cattrall, in the film he wrote, About My Father. To finish out the presentation, Lionsgate brought out director Chad Stahelski and Actor Keanu Reeves to introduce footage from John Wick: Chapter 4. The audience when a little nuts when Keanu walked on stage and then the two friends shared some cute banter before rolling the footage.
After a two-year hiccup, Movies and CinemaCon proudly exclaimed, "We are back!" The studios promised to show us their offerings for not only the end of 2022 but what they are working on for 2023 and they delivered in spades! Attendees were treated to some incredible footage which will certainly excite moviegoers and get them back into theaters. And with that…we bid adieu to CinemaCon 2022.
Photo Credit: Frazer Harrison / Getty Images for CinemaCon