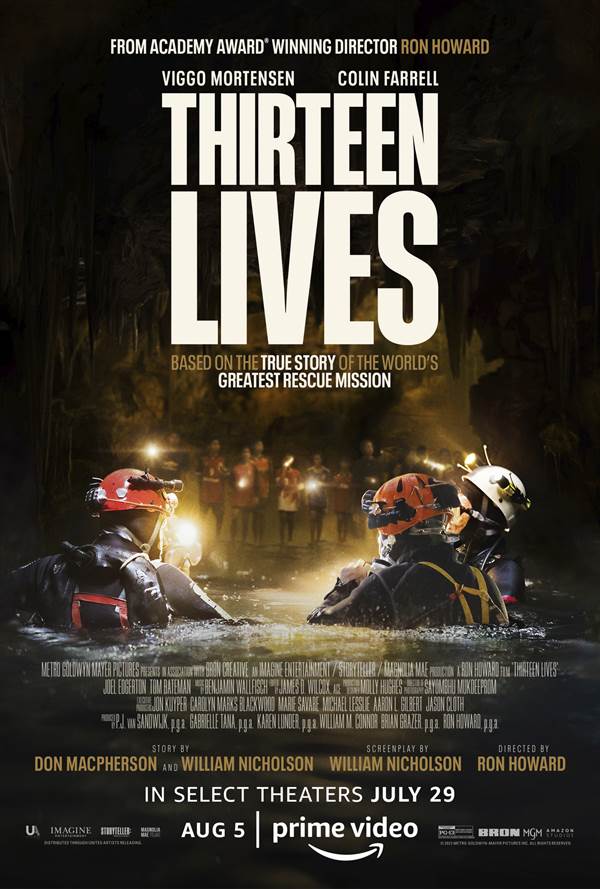 It was the summer of 2018 in Thailand. It was Monsoon season. Twelve junior football players and their coach went for an afternoon adventure in a nearby cave. Then the rains came and they became trapped. The world watched as an international team of over 100 divers worked together to save the coach and the team, two and a half weeks after they entered the cave. Based on the true story, THIRTEEN LIVES heads to theaters on July 29, 2002. Download your pass while supplies last! (And be sure to download one of our movie apps to be alerted the minute NEW links go live)
Amazon Studios, in conjunction with FlickDirect, would like to offer an admit-two pass to see a special advance screening of THIRTEEN LIVES on the following dates, times, and locations:
MIAMI
July 31 AMC Aventura (IMAX)- https://amazonscreenings.com/CeZEe32617
Aug 10 AMC Aventura 4pm- https://amazonscreenings.com/ZknIh58578
Aug 10 AMC Sunset 4pm- https://amazonscreenings.com/hNIbo99158

ORLANDO
Aug 10 AMC Disney Springs 4pm- https://amazonscreenings.com/fUfwf11661
Aug 10 AMC Altamonte 4pm- https://amazonscreenings.com/Jghhj81342
Aug 10 AMC Avenue 16 (Melbourne) 4pm- https://amazonscreenings.com/yeRTc26949

TAMPA
Aug 10 AMC Regency 20 4pm- https://amazonscreenings.com/JTWda75864
Aug 10 AMC Woodland Square 4pm- https://amazonscreenings.com/WdYHF68597
Aug 10 AMC Bradenton 4pm- https://amazonscreenings.com/HvjBw32777

Thirteen Lives recounts the incredible true story of the tremendous global effort to rescue a Thai soccer team who become trapped in the Tham Luang cave during an unexpected rainstorm. Faced with insurmountable odds, a team of the world's most skilled and experienced divers - uniquely able to navigate the maze of flooded, narrow cave tunnels - join with Thai forces and more than 10,000 volunteers to attempt a harrowing rescue of the twelve boys and their coach. With impossibly high stakes and the entire world watching, the group embarks on their most challenging dive yet, showcasing the limitlessness of the human spirit in the process.
Director: Ron Howard

Cast: Viggo Mortensen, Colin Farrell, Joel Edgerton, Tom Bateman, Paul Gleeson, Pattrakorn Tungsupakul, Tui Thiraphat Sajakul, James Teeradon Supapunpinyo, Sahajak Boonthanakit, Weir Sukollawat Kanaros
RATED: PG-13
NO PURCHASE NECESSARY. Limit one pass per household. Must be 13 years of age or older to download a pass. Employees of all promotional partners and their agencies are not eligible. Void where prohibited.