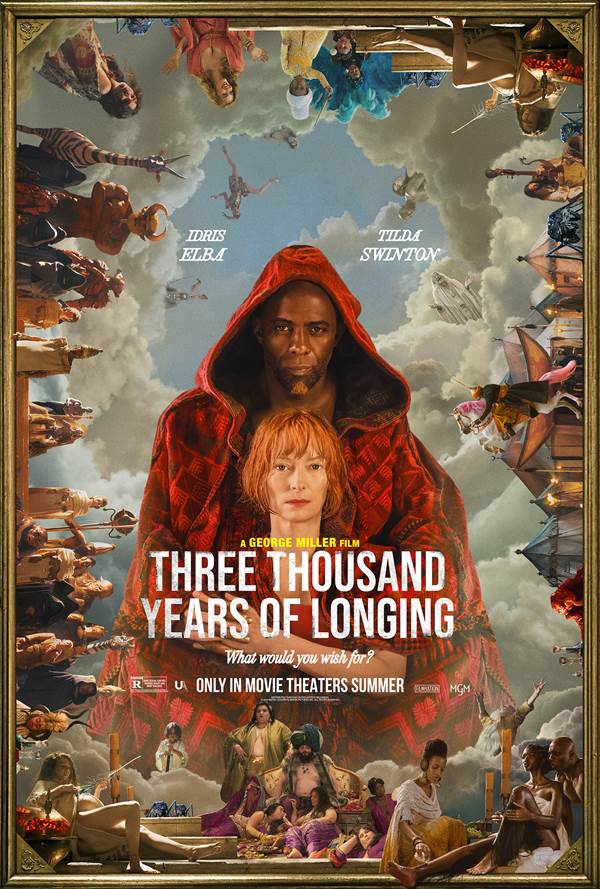 Director George Miller is taking a break from his Mad Max franchise to bring a story of love and fantasy to the big screen. THREE THOUSAND YEARS OF LONGING heads to theaters on August 31, 2002. Download your pass while supplies last! Also, be sure to download one of our movie apps to be alerted the minute NEW links go live!
MGM / United Artists Releasing, in conjunction with FlickDirect, would like to offer an admit-two pass to see a special advance screening of THREE THOUSAND YEARS OF LONGING at the following dates, times, and locations:

MIAMI
: Monday, August 22 Cosford Cinema 8:00 pm
http://uareleasingscreenings.com/BexUf97839



ORLANDO
: Wednesday, August 24 AMC Altamonte 7:30 pm
https://uareleasingscreenings.com/EbOnS42816



TAMPA
: Wednesday, August 24 AMC Westshore 7:30 pm
http://uareleasingscreenings.com/EbOnS42816

Dr. Alithea Binnie (Tilda Swinton) is an academic - content with life and a creature of reason. While in Istanbul attending a conference, she happens to encounter a Djinn (Idris Elba) who offers her three wishes in exchange for his freedom.

This presents two problems. First, she doubts that he is real and second, because she is a scholar of story and mythology, she knows all the cautionary tales of wishes gone wrong. The Djinn pleads his case by telling her fantastical stories of his past. Eventually, she is beguiled and makes a wish that surprises them both.
Directed by: George Miller
Written by: George Miller and Augusta Gore
Based upon: The short story "The Djinn in the Nightingale's Eye" by A.S. Byatt
Executive Producers: Dean Hood, Craig McMahon, Kevin Sun
Music by: Tom Holkenborg
Cast: Idris Elba, Tilda Swinton
RATED: R
NO PURCHASE NECESSARY. Limit one pass per household. Must be 13 years of age or older to download a pass. Employees of all promotional partners and their agencies are not eligible. Void where prohibited.