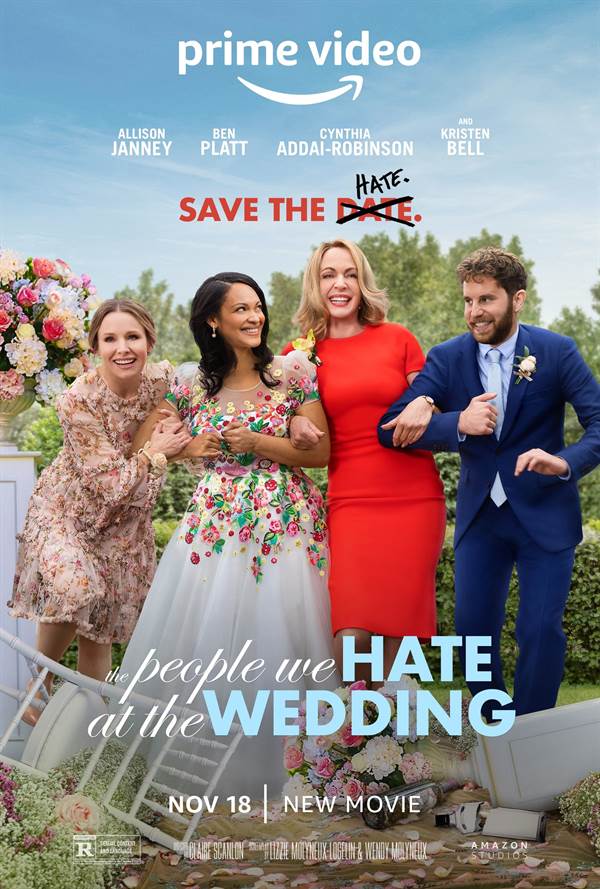 Weddings are a joyous occasion where friends and family gather to celebrate love. They are also a stressful, annoying obligation where one has to dress up and socialize with family we don't like and haven't seen in years. Of course, we have seen this dynamic on the small screen often but thanks to author Grant Ginder THE PEOPLE WE HATE AT THE WEDDING will be streaming next week. Amazon Studios, in conjunction with FlickDirect, would like to offer some individuals access to a virtual screening on Wednesday, November 16, 2022, at 7:00 pm before it premieres on Prime Video on November 18, 2022.

In order to receive access to the virtual screening, go to the following link:
THE PEOPLE WE HATE AT THE WEDDING (virtual screening) Wednesday, November 16, 7:00 PM. - https://amazonscreenings.com/MIAMIPWHAW
Download your pass while supplies last!
Be sure to download one of our movie apps to be alerted the minute NEW links go live!

The film follows struggling American siblings Alice (Kristen Bell) and Paul (Ben Platt), who reluctantly agree to attend the wedding of their estranged, wealthy half-sister (Cynthia Addai-Robinson) in the English countryside alongside their mother, Donna (Allison Janney). Over the course of the wedding week, the family's many skeletons are wrenched from the closet, and the unlikely reunion gives everyone the motivation to move their own lives forward. A modern wedding comedy for anyone with a slightly dysfunctional family (everyone), or anyone who's been forced to attend a wedding they tried to avoid (also everyone).
Based on the book by Grant Ginder.
Created By: Grant Ginder
Directed By: Claire Scanlon
Cast: Allison Janney, Kristen Bell, Ben Platt, Cynthia Addai-Robinson, Karan Soni, Dustin Milligan, Tony Goldwyn, Isaach De Bankolé, Jorma Taccone, Julian Ovenden, John Macmillan
RATED: R
PURCHASE NOT NECESSARY. Limit one pass per household. Must be 17 years of age or older to redeem. Employees of all promotional partners and their agencies are not eligible. Void where prohibited.