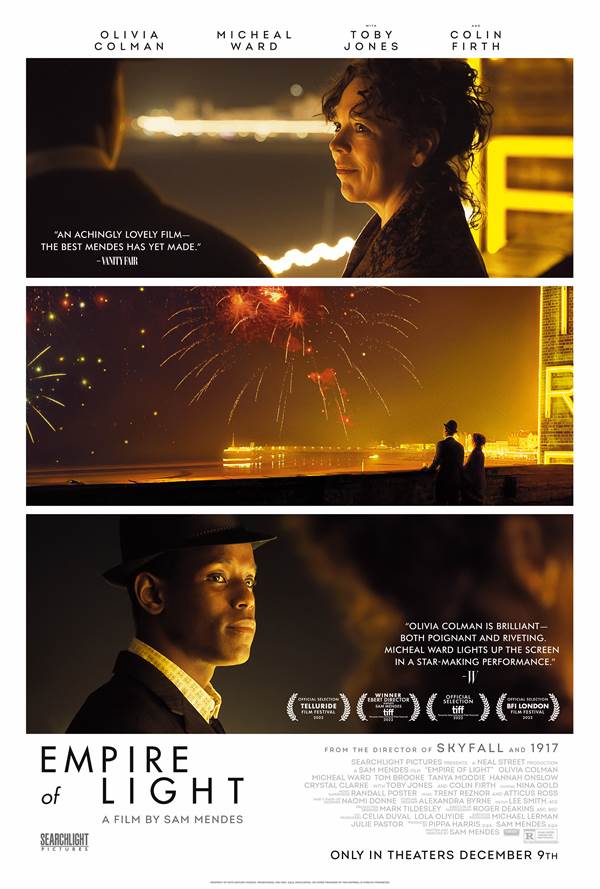 Many people go to the movies as a way to escape everyday life but for Hilary, the movies, or at least running a movie theater, is her life. She does the same job day in and day out and nothing changes. When a new employee, Stephen, takes a job at the theater, he offers Hilary something more that she has never had before. Empire of Light chronicles their relationship in the quaint, English, seaside town during a time of upheaval and racial tensions.
Searchlight Pictures, in conjunction with FlickDirect, would like to offer some individuals access to an advanced screening on Tuesday, December 6, 2022, at 7:30 pm before opens in theaters on December 9, 2022.
In order to download an electronic pass to the screening, go to the following link (based on your preferred location):

MIAMI
Tuesday, December 6 -- 7:30 PM
AMC Sunset Place
Link: https://searchlightscreenings.com/SAnmN47059
Code: SAnmN47059

ORLANDO
Tuesday, December 6 -- 7:30PM
AMC Altamonte
Link: https://searchlightscreenings.com/WcXRv11598
Code: WcXRv11598

Download your pass while supplies last! These passes are first come first serve passes. Seating is not guaranteed.
Be sure to download one of our movie apps to be alerted the minute NEW links go live!
From Academy Award®-winning director and writer Sam Mendes, EMPIRE OF LIGHT is a moving drama about the power of human connection during turbulent times. Set in and around a faded old cinema in an English coastal town in the early 1980s, it follows Hilary (Olivia Colman), a cinema manager struggling with her mental health, and Stephen (Micheal Ward), a new employee who longs to escape this provincial town in which he faces daily adversity. Both Hilary and Stephen find a sense of belonging through their unlikely and tender relationship and come to experience the healing power of music, cinema, and community.
Cast: Olivia Colman, Micheal Ward, Tom Brooke, Tanya Moodie, Hannah Onslow, Crystal Clarke, with Toby Jones and Colin Firth
Written & Directed by: Sam Mendes (American Beauty, 1917)
RATED: R
PURCHASE NECESSARY. Limit one pass per household. Must be 17 years of age or older to redeem. Employees of all promotional partners and their agencies are not eligible. Void where prohibited.