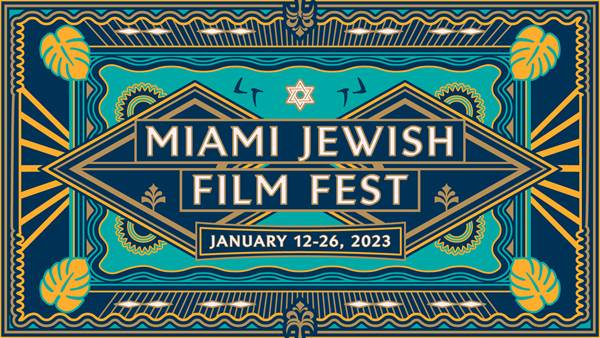 Miami's Jewish Film Festival is returning next month, and the program for its 26th edition has been announced.
Running from January 12-26, 2023, the festival will screen 88 feature and 17 short films representing 25 countries, including 9 world premieres, 12 international premieres, 12 North American premieres, and 4 US premieres. The lineup holds 33 first-time feature filmmakers and an unprecedented 34 films directed by women (32% of the total program).
The festival is America's largest Jewish film festival and will host a hybrid program for its 26th Edition featuring more than 70 in-theater screenings at seven venues across Greater Miami at a variety of locations, including Miami Beach, Coral Gables, and North Miami. The Festival will also present an online component featuring more than 60 films available for streaming throughout the state of Florida and the United States. MJFF has endeavored to make its virtual programming more widely accessible and inclusive by creating closed captioning for all of its English language titles through a grant provided by the Miami Jewish Abilities Alliance.
This year's festival will also commemorate Israel's 75th birthday with the premiere of Karaoke, a bittersweet comedy starring Israeli superstars Lior Ashkenazi and Sasson Gabay. Nominated for 13 Israeli Academy Awards, including Best Picture and Best Director, the film's premiere will feature the attendance of director Moshe Rosenthal and actor Sasson Gabay, one of Israel's most acclaimed actors of stage and screen who is best known for his work on Shtisel and The Band's Visit. The festival will then host a closing night premiere of the acclaimed comedy My Neighbor Adolf starring legendary actor Udo Kier. Both opening and closing night will take place at the historic Miami Beach Bandshell's open-air amphitheater in Miami Beach.
Also in celebration of Israel's 75th birthday, MJFF will present a record-breaking 29 films produced in Israel as part of a special sidebar. Highlights include Jake Paltrow's stunning historical drama June Zero that captures a profound event in the history of the young state, the North American premiere of the romantic comedy Paris Boutique that was nominated for six Israeli Academy Awards, the documentary 1341 Frames of Love and War which won the Best Director Prize at the Docaviv Film Festival, the international premiere of the inspiring documentary Air Born about the children who grew up in the Israeli air force bases housing projects, the incendiary Israeli drama All I Can Do starring a fearless Ania Bukstein (Game of Thrones), the provocative documentary Holy Wine featuring the crème de la crème of Israel's winemakers, the powerful documentary Partisan with the Leica Camera that brings to light for the first time the story of two courageous Jewish partisans during WWII, the directorial debut of Israeli prolific actor Lior Ashkenazi with his dark comedy Perfect Strangers, and the extraordinary portrait of social activist Esty Shushan's efforts to allow ultra-Orthodox women to enter Israeli politics in Women of Valor.
Full details on the program and tickets to the festival can be found at: www.miamijewishfilmfestival.org.