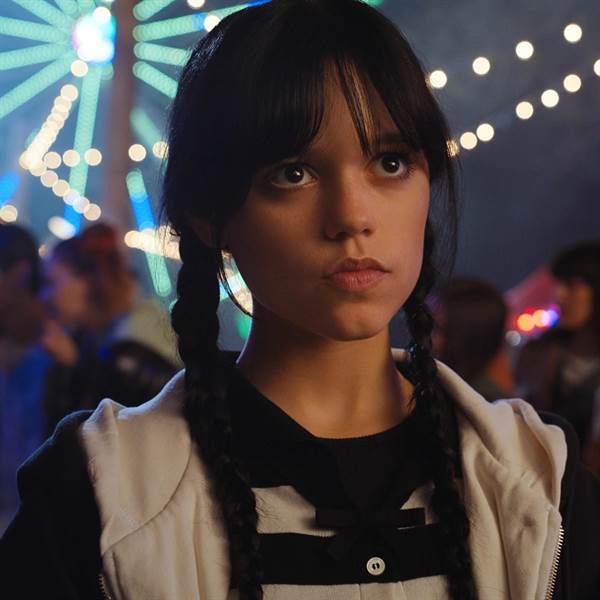 Jenny Ortega, star of Netflix's "Wednesday" series, is in talks to be in Tim Burton's "Beetlejuice 2". The actress would play the daughter of Lydia Deetz, who was portrayed by Winona Ryder in the original.
"Beetlejuice" was released in 1988 and starred Micahel Keaton, Alec Baldwin, Geena Davis, Catherine O'Hara, and Jeffrey Jones alongside Ryder. The film tells the story of a recently deceased couple, Adam and Barbara, who are trapped in their home as ghosts and must figure out how to scare away the new living inhabitants, the Deetz family, who have moved in. They eventually turn to the mischievous and crude "bio-exorcist" Beetlejuice, who agrees to help them in exchange for being set free from his own undead existence.
Keaton is already on board to reprise his role.
The sequel has been in the works since 2013 and Tim Burton commented on how he felt about Keaton in the role, saying, "There's only one Beetlejuice, and that's Michael. There is a script, and I would love to work with him again. I think there is now a better chance than ever… I miss that character. There's something that's cathartic and amazing about it. I think it's closer than ever."
Ortega began her acting career in 2012, appearing in several commercials and small roles on television shows like "Rob" and "Days of Our Lives." She then landed a recurring role on the Disney Channel series "Stuck in the Middle" in 2016, which helped to raise her profile.
In 2018, Ortega starred in the horror-comedy film "The Babysitter: Killer Queen" and later had a lead role in the Netflix thriller series "You" in 2019. Her performance in "You" was widely praised and helped to solidify her status as a rising star in Hollywood.
Most recently, Ortega has been praised for her role in the "Wednesday" series, a coming-of-age story about Wednesday Addams from "The Addams Family".