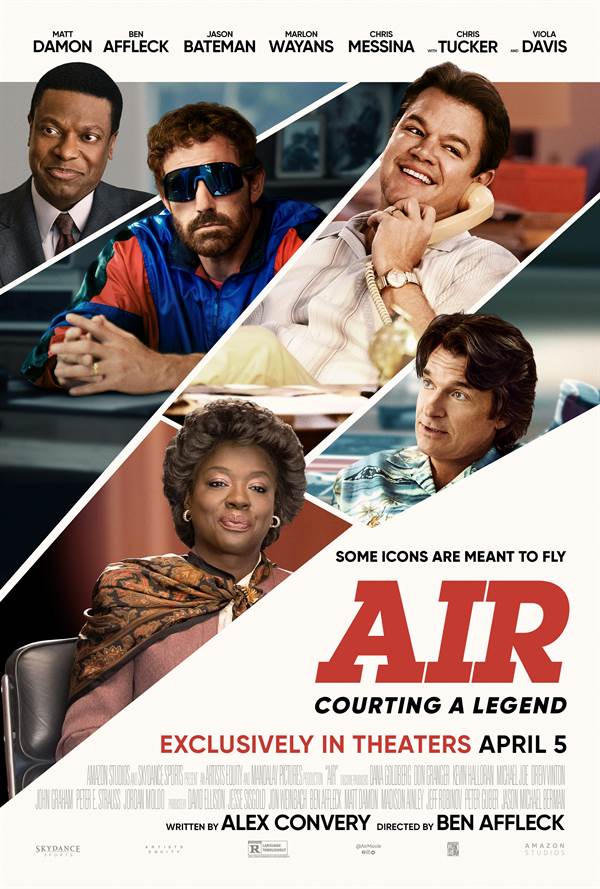 Back in 1984, there was a basketball rookie named Michael Jordan, who was recruited by top Marketing Rep., Sonny, Vaccaro, to become the spokesperson for the new Nike sneaker division. The result was a partnership that became as legendary as the man himself, In Ben Affleck's new film, AIR.
Amazon Studios, in conjunction with FlickDirect, would like to offer some individuals access to an advanced screening of AIR on Tuesday, April 4, 2023, at 7:30 pm at one of the following locations listed below, before it opens in theaters on April 5, 2023.
AIR Advance Screenings
Tuesday, April 4th at 7:30 pm
MIAMI - AMC Aventura
Link: https://amazonscreenings.com/FDAIRMIA

WEST PALM BEACH - Cinemark Boynton
Link: https://amazonscreenings.com/FDAIRWPB

ORLANDO - AMC Altamonte
Link: https://amazonscreenings.com/FDAIRORL

TAMPA - AMC West Shore
Link: https://amazonscreenings.com/FDAIRTPA

FT. MYERS - Regal Bell Tower
Link: https://amazonscreenings.com/FDAIRFTM

JACKSONVILLE - AMC Regency
Link: https://amazonscreenings.com/FDAIRJAX

Be sure to download one of our movie apps to be alerted the minute NEW links go live!

From award-winning director Ben Affleck, AIR reveals the unbelievable game-changing partnership between a then-rookie Michael Jordan and Nike's fledgling basketball division which revolutionized the world of sports and contemporary culture with the Air Jordan brand. This moving story follows the career-defining gamble of an unconventional team with everything on the line, the uncompromising vision of a mother who knows the worth of her son's immense talent, and the basketball phenom who would become the greatest of all time.
Rated R
NO PURCHASE NECESSARY. Limit one pass per household. Must be 17 years of age or older to redeem passes. Employees of all promotional partners and their agencies are not eligible. Void where prohibited.