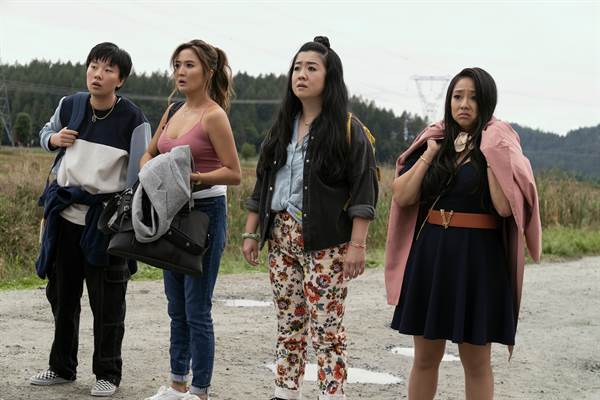 Lionsgate's "Joy Ride" made quite a splash at this year's South by Southwest (SXSW) festival, and now it's set to be screened for CinemaCon audiences on Thursday, April 27th. The screening is scheduled for 2:30 pm to 4:30 pm at The Colosseum and is sure to draw plenty of attention from industry insiders and fans alike.
The buzz surrounding "Joy Ride" has been building for months, thanks in large part to its talented cast and crew. The film stars Ashley Park, Sherry Cola, Stephanie Hsu, and Sabrina Wu as four friends who embark on a wild and debaucherous adventure. It was directed by Adele Lim, from a screenplay by Cherry Chevapravatdumrong & Teresa Hsiao, with a story by Cherry Chevapravatdumrong & Teresa Hsiao & Adele Lim. The film is produced by Point Grey's Seth Rogen, Evan Goldberg, James Weaver, and Josh Fagen, alongside Chevapravatdumrong, Hsiao, and Lim.
In addition to the screening, the cast of "Joy Ride" was recently honored with the CinemaCon Comedy Ensemble of the Year Award. This award recognizes outstanding achievements in comedy acting and is a testament to the talent and chemistry of the film's stars.
Fans of the film will be excited to know that "Joy Ride" is set to be released exclusively in theaters on July 7, 2023. While it's still a few months away, the anticipation for this highly anticipated comedy is already at fever pitch.
CinemaCon itself is the official convention of NATO and will be held from April 24-27, 2023, at Caesars Palace in Las Vegas. As the presenting sponsor, The Coca-Cola Company will help ensure that attendees have a memorable and entertaining experience.
Overall, "Joy Ride" looks like it's shaping up to be one of the most exciting and talked-about films of the year. With a talented cast, a hilarious script, and an expert team behind the scenes, it's sure to be a hit with audiences of all ages.