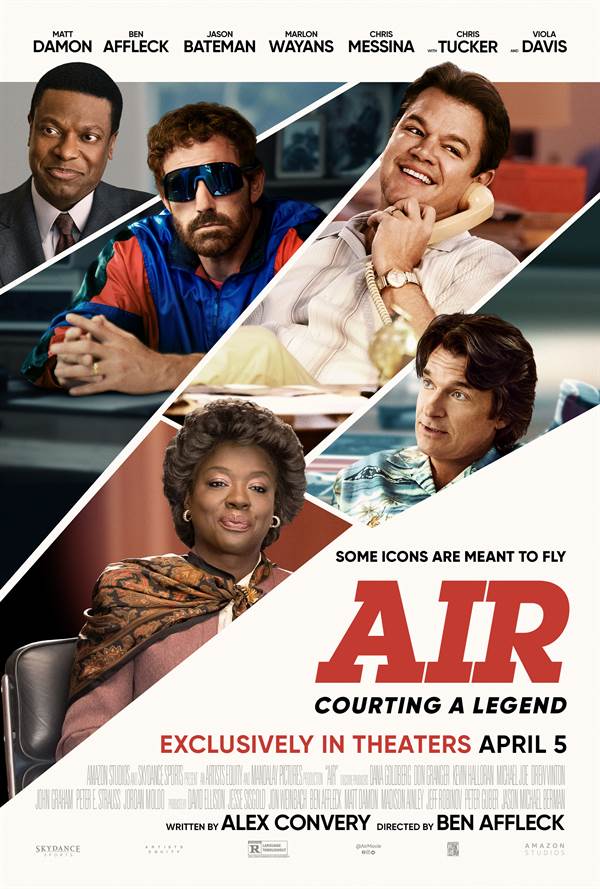 Amazon Studios has announced that they will take their Fresh AIR teams to the streets, hosting a multi-city consumer experience on April 2nd, centered around Ben Affleck's upcoming film AIR, from Amazon Studios, Skydance Sports, Artists Equity, and Mandalay Pictures, about the revolutionary beginnings of the iconic Air Jordan brand.
Fresh AIR guerilla street teams across the United States will flood select locations within major cities including Los Angeles, New York, Miami, and Chicago, and bring together sneakerheads nationwide while offering a unique experience and fun surprises.
Free to the public, Fresh AIR will celebrate self-expression through fashion, capturing that excitement and pride with video testimonials from attendees, asking them to share their sneaker stories while getting a complimentary shoe cleaning featuring premium care products from Jason Markk. Staff from Jason Markk will be on-site with the team to give expert advice on keeping shoes in top condition. The street team will also have a presence at the Jason Markk flagship store in Los Angeles.
For many people around the world, the sneakers they own are much more than just pairs of shoes. They're a symbol of hard work, dedication, passion, and artistry, that tells the story of their interests and personalities. Inspired by the true story of Michael Jordan and the beginnings of Nike's Air Jordan sneakers, Fresh AIR will provide the opportunity to celebrate the culture and history behind the sneaker community and give each collector a chance to tell their stories. Because at the end of the day, a shoe is just a shoe until you step into it and give it a story worth telling.
All participants will not only walk away with a freshly cleaned pair of kicks, but while supplies last, also maintain the photo-worthy pristine clean with AIR and Jason Markk co-branded sneaker duster bag and the opportunity to capture this once-in-a-lifetime moment with an AIR branded photo op tied to AIR's "A shoe is just a shoe until I step into it" social campaign.
From award-winning director Ben Affleck, AIR reveals the unbelievable game-changing partnership between a then-rookie Michael Jordan and Nike's fledgling basketball division which revolutionized the world of sports and contemporary culture with the Air Jordan brand. This moving story follows the career-defining gamble of an unconventional team with everything on the line, the uncompromising vision of a mother who knows the worth of her son's immense talent, and the basketball phenom who would become the greatest of all time.
AIR will premiere exclusively in theaters globally on April 5, 2023.