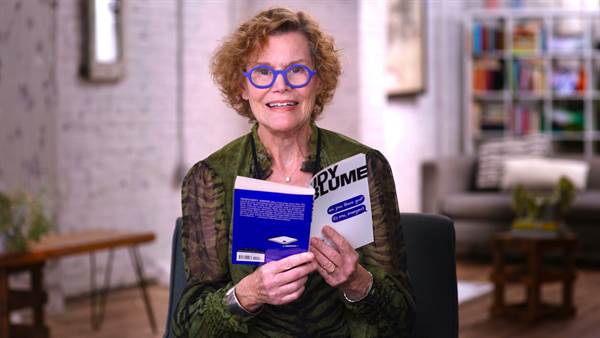 Amazon has announced that "Judy Blume Forever" is now streaming globally on Prime Video.
Produced by Imagine Documentaries and directed by Emmy-winning filmmakers Davina Pardo and Leah Wolchok, "Judy Blume Forever" traces Blume's journey from fearful, imaginative child to storytelling pioneer who elevated the physical and emotional lives of kids and teens, to banned writer who continues to fight back against censorship today. Playful and poignant animations celebrate the magic and awkwardness of being young, while intimate conversations with acclaimed authors and artists reveal Blume's profound impact on readers. Long-standing fans share open-hearted letters they wrote to Blume over decades.
Generations of readers have found themselves in a Judy Blume book. Her name alone launches a flood of memories for anyone who's gripped one of her many paperbacks. For decades, Blume's radical honesty has comforted and captivated readers - and landed her at the center of controversy for her frankness about puberty and sex. Now the beloved American author candidly shares her own coming-of-age story.
With humor, sensitivity, and a healthy dose of adolescent cringe, Judy Blume Forever tells the story of the woman whose trail-blazing books changed the way millions of readers understand themselves, their sexuality, and what it means to grow up.
Blume has written over 30 books, which have been translated into many languages and have sold millions of copies around the world. She has received numerous awards and honors for her work, including the National Book Foundation's Medal for Distinguished Contribution to American Letters, the Library of Congress Living Legends Award, and the Margaret Edwards Award from the American Library Association.
In addition to her writing, Blume is also an advocate for free speech and intellectual freedom, particularly in the context of censorship and challenges to books in schools and libraries.
Some of her best-selling books include "Tales of a Fourth Grade Nothing" (1972), "Are You There God? It's Me, Margaret" (1970), "Blubber" (1974), "Superfudge" (1980), and "Forever" (1975), among others.
The documentary features Molly Ringwald, Lena Dunham, Anna Konkle, and Samantha Bee.
Imagine Documentaries is a production company founded by three of Hollywood's most renowned producers - Ron Howard, Brian Grazer, and Michael Rosenberg. The company specializes in producing documentaries that delve into diverse and complex topics, aiming to bring attention to critical issues and increase social awareness.
Some of Imagine Documentaries' most notable works include "Rebuilding Paradise," which documents the aftermath of the devastating wildfires in Paradise, California, "Pavarotti," a biographical film about the famous opera singer, and "The Beatles: Eight Days a Week - The Touring Years," a documentary about the Beatles' early career.
Imagine Documentaries has also produced several series, including "Mars," a hybrid documentary and drama series that explores the possibility of colonizing Mars, and "Inside North Korea's Dynasty," which provides an in-depth look at the Kim family's regime in North Korea.