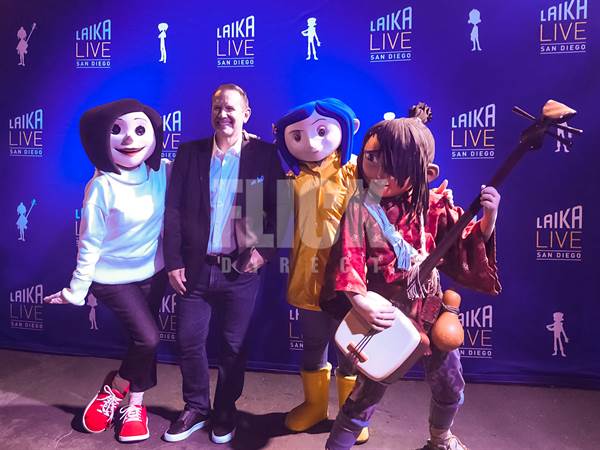 Award-winning studio LAIKA has named two executives to its expanding live-action division, effective immediately. Jeremy Kipp Walker joins LAIKA as Executive Vice President of Live-Action Production; Chaz Salembier is Creative Vice President, Live-Action Film. Both executives will report to Matt Levin, President of Live-Action Film & Series, who joined LAIKA in February of this year after a long tenure at Netflix.
"This is an exciting and formative moment for LAIKA as we build out our live-action slate and Jeremy and Chaz will be integral to this next phase of our evolution," said Levin. "I have had the privilege of working closely with Jeremy for over 10 years - he's one of the most talented and respected producers in the business and I could not ask for a better partner. Chaz is an exceptional creative executive who will be an incredible champion for filmmakers and bold, original storytelling at LAIKA."
Walker served as Head of Production for Netflix's Independent Film Division, responsible for creating and building the production infrastructure for a new studio tasked with making 25+ mid-sized feature films per year. During his tenure, the division oversaw the completion of 100+ original films. He also co-founded and ran Netflix's Emerging Filmmaker Initiative (EFI), an annual program created to cultivate and accelerate the careers of the next wave of filmmakers working in high-demand genres like sci-fi, action, horror, and thriller. He is an independent film producer whose projects have earned two Academy Award® nominations, 13 Spirit Award nominations and three wins, and three AFI Movie of the Year awards. His credits include The Big Sick, Half Nelson, Table 19, Mississippi Grind, and It's Kind of a Funny Story.
Chaz Salembier will identify and develop compelling stories for the studio's live-action film slate. He is currently representing LAIKA's interests at the Cannes Film Festival. He began his career in the entertainment industry as a screenwriter before climbing the ranks at Walt Disney Studios. He spent the past decade as a creative executive within Disney's live-action arm, working on films including Christopher Robin, The One and Only Ivan, Timmy Failure, Artemis Fowl, Dumbo, Lady and the Tramp, Safety, Pinocchio, and Peter Pan and Wendy. He most recently served as lead executive on Rise and Chang Can Dunk.
LAIKA, established in 2005 in Oregon under the leadership of President & CEO Travis Knight, has achieved notable acclaim. The studio's impressive lineup of five films, namely Coraline (2009), ParaNorman (2012), The Boxtrolls (2014), Kubo and the Two Strings (2016), and Missing Link (2019), have all received nominations for the Academy Award® for Outstanding Animated Feature. Kubo and the Two Strings emerged victorious at the BAFTA® Awards, winning the Best Animated Film category and earning an additional Oscar® nomination for Visual Effects. Furthermore, Missing Link was honored with the Golden Globe® for Best Animated Film. LAIKA's pioneering work in 3D printing was recognized with a Scientific and Technology Oscar® in 2016. Currently, the studio is diligently working on its sixth animated film, Wildwood, which is based on the book series by Colin Meloy and illustrator Carson Ellis. Additionally, LAIKA is in the development phase for The Night Gardener, an animated film born from an original idea by Bill Dubuque, the creator of the acclaimed series Ozark. Moreover, LAIKA is branching out into the realm of live-action with its first feature film based on the action-packed thriller novel Seventeen, written by screenwriter John Brownlow.