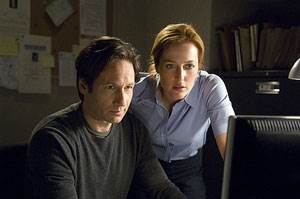 X-Files fans got a double dose of a much needed fix this week when creator Chris Carter spilled some details, and a sneak peak at the theatrical trailer. ( Youtube quickly took down the trailer due to copyright infringement).
X-Files: Fight The Future (1998) was a theatrical version of the highly rate television series of the same name. The sequel has been rumored since its release, and will arrive in theaters July 25th, 2008. Stars David Duchovny and Gillian Anderson return to their roles of paranormal investigators Fox Mulder and Dana Scully respectively.
A title for the film has not yet been determined with Carter and FOX having different ideas as to what the final title should be. The official trailer will debut in front of Iron Man in May of 2008.