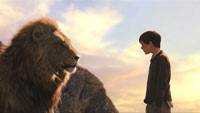 The production of the third film in the Narnia Series, "The Chronicles of Narnia: The Voyage of the Dawn Treader", will be postponed, Disney and Walden Media has announced. Apparently, there is a scheduling conflict among the actors involved.

The movie will be released on May 7, 2010, one year later than it's original release date of May 1, 2009. Production will occur on the third film from January until summer of 2008. Jerry Bruckheimer's "G-Force" will take the latter release date in Narnia's place. "G-Force" is about a team of guinea pigs that are trained elite agents on a dangerous mission.

Narnia's second film in the series "Prince Caspian" is set to release on May 16, 5 months later than its original December release date. This change was due to the release of Walden Media's "The Water Horse.