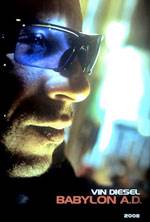 "Babylon A.D." is getting some not-so-positive feedback already, and what worse, this time its coming from the film's own director.

Matieu Kassovitz recently spoke to AMCTV about his disgust over making the upcoming film.
"I never had a chance to do one scene the way it was written or the way I wanted it to be. The script wasn't respected. Bad producers, bad partners, it was a terrible experience." He went on to explain why he took on the project in the first place. "The scope of the original book was quite amazing. "The author was very much into geopolitics and how the world is going to evolve. He saw that as wars evolve, it won't be just about territories any more, but money-driven politics. As a director it's something that's very attractive to do."

Kassovitz says that the political aspect of the book doesn't even come across in the film. It's pure violence and stupidity. All the action scenes had a goal: They were supposed to be driven by either a metaphysical point of view or experience for the characters... instead parts of the movie are like a bad episode of 24."

He holds nothing back and puts the blame completely on 20th Century Fox. "Fox was sending lawyers who were only looking at all the commas and the dots. They made everything difficult from A to Z." What pushed him over the edge though was the re-editing of the film the studio did to bring it down to 93 minutes - "I should have chosen a studio that has guts. Fox was just trying to get a PG-13 movie. I'm ready to go to war against them, but I can't because they don't give a s--t."