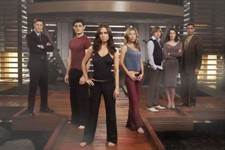 Problems have arisen on the set of the upcoming Fox series, "Dollhouse". It seems that creative differences have forced production to a halt.

Filming, which stopped last Thursday, will resume on September 25, according to spokesman for 20th Century Fox TV. The break was supposedly put in place for Joss Whedon to punch the scripts up a bit.

"We have tremendous confidence in Joss and his team, and we wholeheartedly supported his desire to take some time to focus on upcoming scripts before resuming filming," the 20th spokesman said. "It's not often in television production that you have the luxury of extra time, but in this instance we did. And this is a show we all believe in and we want to give it every opportunity to succeed."

According to another source, however, executive have cited concerns over the difficulty of following the show, and the possibility of viewers having no empathy for characters that are devoid of any personality of their own. This has been dismissed by Fox network spokesman, however. "We believe in Joss, and we support the show," he said. "It will be on the air midseason."