Oct 07, 2008 11:17 AM EST
I Am Legend Prequel In The Works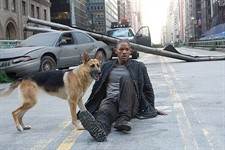 According to Variety, there will be an "I Am Legend" prequel released. The Warner Bros. film will be the follow up to the 2007 smash hit starring Will Smith.

Smith will reprise his role as Dr. Robert Neville, and will also be co-producing the film with James Lassiter, his partner at Overbrook Entertainment. Francis Lawrence will direct and the screenplay will be written by D.B. Weiss.

The film will follow the last days of civilization in New York City following an outbreak of a man-made virus created to cure cancer.
Source: Variety

Filed Under: i am legned, will smith