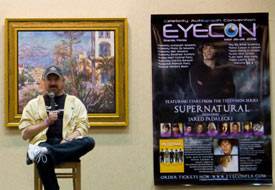 After Buffy the Vampire Slayer and Angel left the air, I was devastated with the lack of television shows that catered to my tastes -- that was until I found Supernatural! For the past four years, I have escaped into the world of the Winchesters brothers.

Now in the fall of 2008, Interstellar Productions, Inc. has unleashed upon the world the second EyeCon Supernatural Convention, at the Florida Hotel and Conference Center, in Orlando, Florida. The Convention hosted such stars as Jim Beaver, AJ Buckley, Travis Wester, Fredric Lehne, Nicki Aycox, Jason Manns, and Jared Padalecki.

Being on the staff of FlickDirect I have had the chance to attend many television and movie conventions throughout the years; but I have to say that Interstellar Productions has bought together one of the most personable, friendly, and informative events that I have been to in quite some time.

Every actor/actress was readily accessible to the conventioneers for one-on-one time, and during their discussions, they gave some wonderful insight into past experiences on the set of Supernatural and teasers of what is to come on the show -- even a possible surprise spin-off with the stars of Season 3 Ghostfacers episode.
The vendor room of the Convention hosted eight main vendors (aside from the autograph panel) which provided every imaginable type of Supernatural paraphernalia that any fan could want.

The convention was run very smoothly with promoter Kenneth Smith and his staff ensuring that everyone would take away memories of a lifetime for the event.

All in all, I would have to say EyeCon was probably THE best fandom convention I have ever attended; and I look forward to Interstellar Productions fan events in 2009, which include a Supernatural Cruise, and also a possible Twilight Convention based on the upcoming 2008 film.