Supernatural (2005)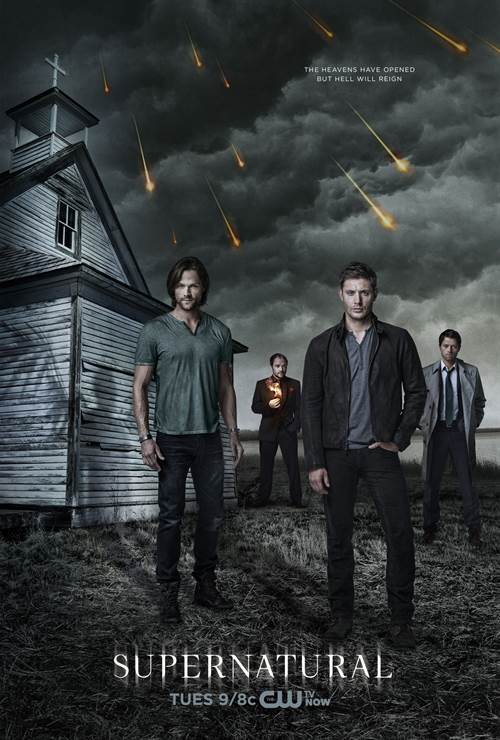 | | |
| --- | --- |
| Created By: | |
| Writers: | |
| Cast: | |
| Air Date: | Tuesday, September 13, 2005 |
| Studio: | Warner Bros. |
| Genre: | Television |
| Rating: | This program contains some material that many parents would find unsuitable for children under 14 years of age. |
Supernatural Synopsis
The thrilling and terrifying journey of the Winchester brothers continues as SUPERNATURAL enters its eleventh season. Sam (Jared Padalecki) and Dean (Jensen Ackles) have spent their lives on the road, battling every kind of supernatural threat. Over the years, after countless bloody adventures, they have faced everything from the yellow-eyed demon that killed their mother to vampires, ghosts, shapeshifters, angels and fallen gods. With the help of the fallen angel Castiel (Misha Collins), and the King of Hell, Crowley (Mark A. Sheppard), the Winchesters have straddled the line between good and evil.
Supernatural images are © Warner Bros.. All Rights Reserved.
Supernatural Actress Nicki Aycox Dies at 47
11/21/2022 3:15 PM EST
Nicki Aycox, who starred in the CW series "Supernatural", has died. She was 47.While no cause of death was disclosed, it was announced by Aycox in 2021 that she was diagnosed with leukemia."My beautiful, smart, fierce, incredibly talented, and loving...
| Full Article
Supernatural to End After Upcoming 15th Season
3/25/2019 11:06 AM EST
Supernatural, the iconic CW show, will be ending after its upcoming 15th season. The series stars Jensen Ackles, Jared Padalecki, and Misha Collins."We just told the crew that though we're very, very excited to be moving into our 15th season, it will...
| Full Article
Supernatural Spinoff Wayward Sisters Coming to CW
7/23/2017 4:43 PM EST
"Wayward Sisters", a spinoff of CW's long-running series, has been announced, and fans are said to be excited about the people involved in the project.The series will star Briana Buckmaster, Kathryn Newton and Katherine Ramdeen, as well as actress Ki...
| Full Article
Win a Copy of Supernatural Season 11 on Blu-ray From FlickDirect...
9/6/2016 10:47 AM EST
Sam and Dean are back!  Supernatural kicks off season 12 on The CW on October 13, 2016, and the Season 11 Blu-ray combo pack is  in stores today, September 6, 2016.  In celebration of the home entertainment release of Supernatural Season 11 Warner Br...
| Full Article
Supernatural The Movie?
7/30/2016 10:52 PM EST
As has become tradition, Nerd HQ ended their festivities with the cast of Supernatural. Jared Padalecki, Jensen Ackles, Misha Collins, and Mark Sheppard took to the stage for an hour of fan questions, inside jokes, and relentless teasing.The latter b...
| Full Article
Supernatural Conversation for a Cause Panel at Nerd HQ 2015
7/13/2015 1:16 PM EST
Ten minutes into the Supernatural panel at Nerd HQ 2015, Mark Sheppard shook his head in disbelief. Costar Misha Collins hadn't been able to join this year because he decided to spend time with his family instead. But Jared Padalecki and Jensen Ackle...
| Full Article
"Supernatural:The Anime" Will Be Direct to DVD/Blu-ray Release
4/5/2011 4:27 PM EST
Fans of the CW's "Supernatural" show may be a bit disappointed to find out that the anime adaptation of the series will not be aired on television. The series will only be available, in July, on Blu-ray and DVD."Supernatural:The Anime" will consist o...
| Full Article
Supernatural To Be Renewed for 5th Season on The CW
3/9/2009 8:48 PM EST
The CW network has greenlit the early renewals of several of their shows.  Those that were picked are Smallville, Supernatural, Gossip Girl, One Tree Hill, 90210 and America's Next Top Model."As we continue to build The CW Network as a destination fo...
| Full Article
Supernatural Fans Get Up Close and Personal With Stars of The Sh...
10/17/2008 12:04 PM EST
After Buffy the Vampire Slayer and Angel left the air, I was devastated with the lack of television shows that catered to my tastes -- that was until I found Supernatural!  For the past four years, I have escaped into the world of the Winchesters bro...
| Full Article
EyeCon Annouces Five New Supernatual Guests to Convention
6/19/2008 3:43 PM EST
Orlando , FL. - EyeCon has announced four new Supernatural guests to the September 26-28 convention lineup. Jim Beaver, who plays "Bobby Singer" on the show will be appearing as well as Chad Lindberg who plays the popular character "Ash" and Fred Leh...
| Full Article
Supernatural Star Jim Beaver To Attend EyeCon
2/13/2008 2:55 PM EST
Orlando , FL. - Jim Beaver, star of television's Supernatural and Deadwood has confirmed for an appearance at EyeCon's Celebrity Autograph Convention which takes place April 4-6, 2008 in Orlando, Florida. This will be Jim's first ever convention appe...
| Full Article
Supernatural Star Jared Padalecki To Attend EyeCon
10/23/2007 12:10 PM EST
Orlando , FL. - EyeCon is proud to announce the signing of three new guests to it's April 4-6, 2008, Orlando, Florida convention, Jared Padalecki, Chad Lindberg and Alona Tal.Jared Padalecki is the star of the CW's hit television series, Supernatura...
| Full Article
FlickDirect interviews the cast of Supernatural about the Show's upcoming 2012-2013 at San Diego Comic Con 2012....

Join FlickDirect from Comic Con 2014 as we interview the stars of Supernatural on Season 10 of the show including, Jared Padalecki, Jensen Ackles, Mar...
With a shorter season, the cast and crew of Supernatural discuss how it will affect their storytelling as the show heads into its 14th season....

The cast of Supernatural has become like family to FlickDirect throughout the years and we recently talked again this year with the cast during Comic...
SPONSORED LINKS