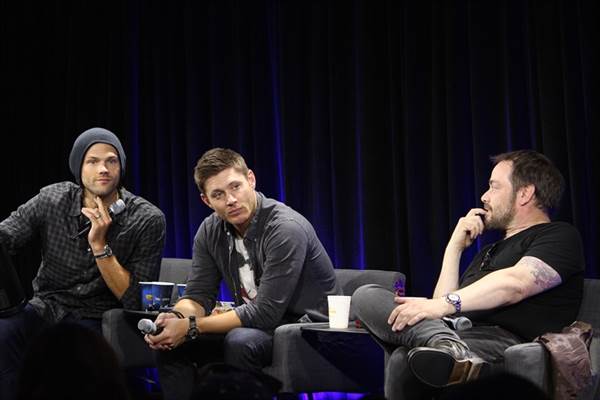 Ten minutes into the Supernatural panel at Nerd HQ 2015, Mark Sheppard shook his head in disbelief. Costar Misha Collins hadn't been able to join this year because he decided to spend time with his family instead. But Jared Padalecki and Jensen Ackles were on stage with Sheppard and they were not staying on topic. At all.

As they took off down yet another rabbit trail, followed very closely by moderator Aisha Tyler, Sheppard put his head in his hands and commented wryly, "I never thought I'd say this in my life but I actually miss Misha."

Even without Collins, or maybe as Sheppard notes because Collins was absent, the Supernatural Conversation for a Cause was a wonderful riot. The three men from the CW show got up to plenty of shenanigans from throwing candy into the crowd to hugging fans and recounting the many times they've pranked Collins on set. There was also quite a bit of NSFW content that was, admittedly, so funny many people were crying.

In between all of that they also managed to talk a little about Supernatural, which enters its 11th season on October 7th on the CW. They summed up the show nicely: "They are sacrificial heroes and they will do anything and everything they can including lay down their life, for the greater good." They also touched on how personal the show has become, saying, "The brothers' journey is an allegory for life's struggles." And in fact there have been moments when their TV lives and their real lives intersected, such as in the season 8 finale when Padalecki said he felt as though "they were writing my life story."