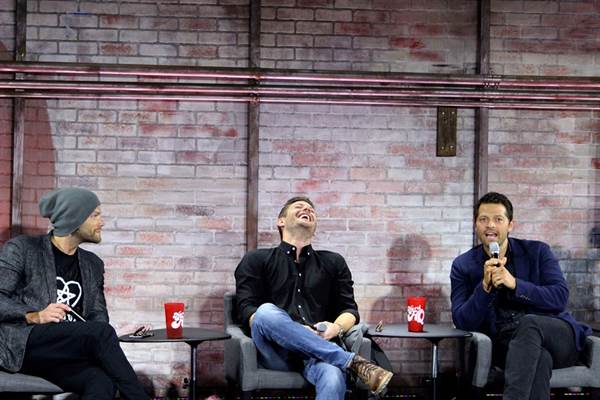 As has become tradition, Nerd HQ ended their festivities with the cast of Supernatural. Jared Padalecki, Jensen Ackles, Misha Collins, and Mark Sheppard took to the stage for an hour of fan questions, inside jokes, and relentless teasing.

The latter began immediately when the on-screen brother needled Collins for his Facebook Live obsession. Earlier, right before they took the Hall H stage for their Comic-Con panel, Collins was ensconced in a corner trying to do a Facebook Live while his co-stars did everything possible to be disruptive. "They call so that I can't live stream. It's like 'Jensen calling'.... 'Dickhead calling'..."

With one of the most devoted and longstanding fandoms in recent television history, Supernatural can and probably will continue as long as its cast is interested in staying on. But what about venturing onto the big screen? Padalecki wonders whether that would be a good thing because without the standards and practices of network TV, Supernatural The Movie could have a vastly different feel than what fans are accustomed too. Polling the audience, he asked if fans really want to hear the Winchester brothers drop the F bomb. "YES!" was the resounding reply.

As always, there was something hilariously inappropriate as well. This time it was Collins' prolonged story of having gas on an airplane. That was preceded by Ackles recounting how Padalecki had never heard of the pull my finger gag until a year ago. At some points, the crowd was laughing so hard people were crying and clutching their friends next to them to stay upright.

Ackles won the prize for best answer. When asked what female they would cast as their own character, he replied, "My wife. 'Cause she's a badass."