Jan 01, 2009 09:36 PM EST
I am Legend Sequel Talks In The Works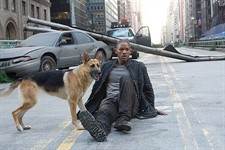 Rumors surrounding an "I Am Legend" prequel have been put to rest. According to Ain't It Cool News, the follow up film with actually be a sequel.

Initially, Will Smith developed a prequel,with the story focusing on Smith an a few survivors of the virus. The movie would play out with Smith's character getting involved with these survivors and trying to treat them, unsuccessfully. The idea wasn't well received by Warner Bros. so it was tossed, and a sequel was developed instead.

There are no confirmations that the information that Ain't It Cool News received was definite.
Source: Aint It Cool News

Filed Under: i am legend, will smith